World Book Night this year was Saturday 23rd April.
Of course, anything book related is of interest to Bibliophile, however in our infancy we are focusing more on people who have already discovered the wonder of reading for pleasure – World Book Night are working on the 36% of people in the UK who don't read regularly. (DCMS, 2015).
They bring together a powerful collaboration of national partners to inspire more people to read. Thousands of volunteers share their love of reading by giving out books to people in their communities who, for whatever reason, don't read for pleasure or own books.
Maybe that is something Bibliophiles of Tattenhall can do next year (to celebrate our 1st Birthday perhaps?) – but for now let's have a look at the books that have been recommended by World Book Night.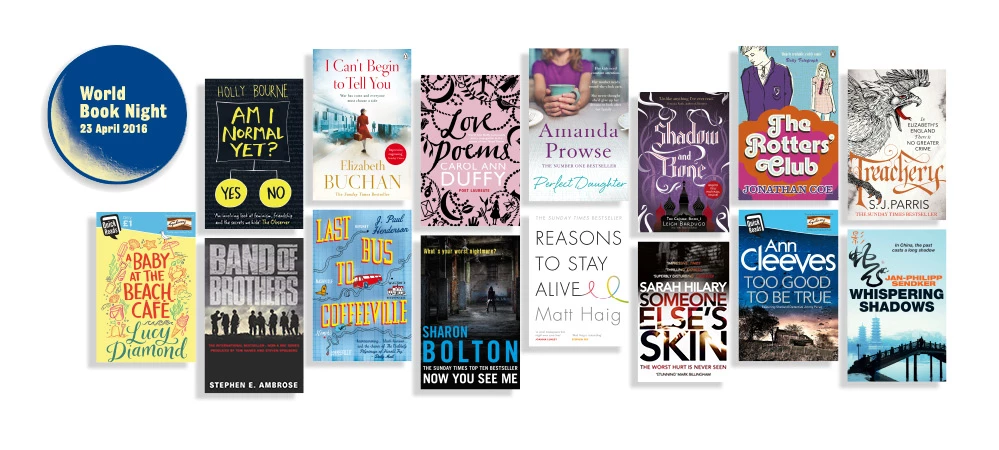 Band of Brothers – Stephen E. Ambrose (Non Fiction / Military History)
Last Bus to Coffeeville – J. Paul Henderson (Literary Fiction)
Too Good to be True – Anne Cleeves (Crime / Thriller)
Someon Else's Skin – Sarah Hilary (Crime / Thriller)
Perfect Daughter – Amanda Prowse (Women's Fiction)
The Rotter's Club – Jonathan Coe (Literary Fiction)
Reason to Stay Alive, Matt Haig (Non-fiction)
Love Poems, Carol Ann Duffy (Poetry)
A Baby at the Beach Cafe, Lucy DIamond (Quick Reads – Women's Fiction)
Now You See Me – Sharon Bolton (Crime / Thriller)
I Can't Begin to Tell You, Elizabeth Buchan (Historical Fiction)
Whispering Shadows – Jan-Philipp Sendker (Friction in translation / Thriller)
Treachery – S. J. Parris (Historical Fiction)
Shadow and Bone – Leigh Bardugo (Crime / Thriller)
Am I Normal Yet? – Holly Bourne (Young Adult)
Have you read any of them?
I've read the Matt Haig book, Reason to Stay Alive – the blurb states – this is the true story of how Matt Haig came through crisis, triumphed over a mental illness that almost detroyed him and learned to live again. It was a fascinating book – moving and funny. It was an amazing insight into an author who has previously made me laugh out loud (The Humans and The Radleys) and explained depression in such a candid and honest way that it stayed with me long after I finished it. Let me know if you'd like to borrow it!

Click here if want to find out more about tattenhall.org Bibliophile.