Tue 26th Jan 2021

Patchy rain possible 4°C
The beautiful village of Tattenhall in Cheshire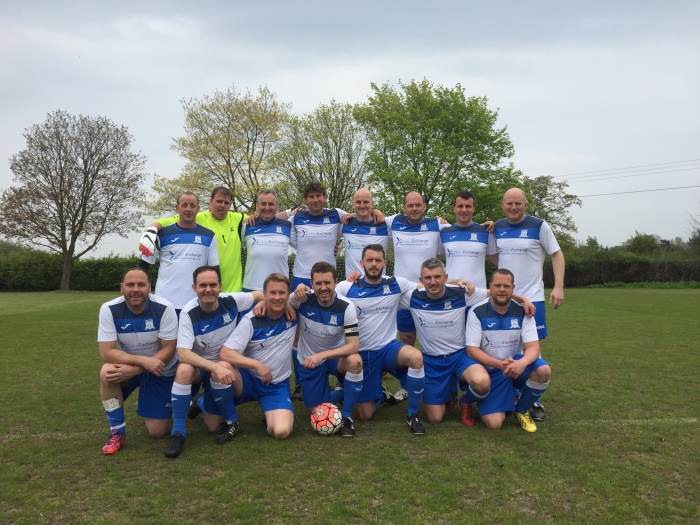 Victor French:
May 2016
Tattenhall Vets Reach County Cup Final Saturday 14th May at Chester F.C. Deva Stadium
Tattenhall Vets prospects of securing an unprecedented league and cup double took another leap forward on Saturday when they dispatched Bunbury Vets in the Cheshire West Veteran's Cup semi-final at Cheshire Sports ground. They now progress to the county final next Saturday afternoon at Chester F.C.'s Deva Stadium on Bumpers Lane.
A niggly win against the wrinkly Bunbarians meant the footballing fairytale of the century was still alive. Quoted by one bookmaker at 5,000 -1 at the start of the season, Tattenhall are now three games away from achieving an event so unlikely that, pre-season, Vet's legend Nathan Chorley promised, "if the lads did it, he would appear in the team group photo with his trousers ... on".
The game was full of surprises, not least when Bunbury insisted that the decision as to who kicked off shouldn't be determined by a toss of the coin, but by which captain's car keys were picked out of a bowl. The keys selected were those of Tim Whitehill and Tattenhall duly got the game under way.
For 30 minutes the Flaccarites, whilst not creating too many chances, appeared in total control and took a deserved lead when a marauding George Latham latched onto a dangerous Chris Woodburn low cross, forcing an own goal from the bewildered Bunbury backline. Welcome as the goal was, it represented scant reward for a period of dominance. This apparent lack of cutting edge and a knee injury to rock solid defensive fulcrum Andy Manson encouraged the opposition back into the game. The Bunnies sensed a more aggressive approach could provide a way back into the game and duly executed, almost literally, this Machiavellian scheme when Tattenhall skipper Tim Whitehill was hacked down and concussed, bringing a premature end to his afternoon.
Bunbury's muscular long ball game was beginning to turn the tide, but this could have been brought to a halt more successfully than old King Canute managed, had George Latham, following another well-timed foray into the danger zone, not slid his shot wide of an open goal.
The renaissance of the mid-Cheshire pampas grass enthusiasts continued into the second half and although it did not stop them conceding a Stuart Raine header from a well-judged Woodburn corner, it wasn't long before the Tarporley overspill village did what they do best — scored away from home. A speculative punt of a free kick into the box ricocheted off the nape of a sprawling Bunbarian and careered into the Tattenhall net past a helpless Matt Buckingham. This heralded a tense last 20 minutes, littered with questionable challenges and tetchy exchanges, but notwithstanding their reputation for expertise around the box, Bunbury could not penetrate and Tattenhall deservedly progressed to the final.
Tattenhall player-manager, Stuart Underfire-Taylor (now formally changed by deed poll to save the journalists time), publicly pondered that, "perhaps dreams can come true and I can finally get rid of the stockpile of Tattenhall Vet's scarves that have been languishing in Ant Rouse's garage for the last two years ... and we might win the cup." At a massively discounted £5 a scarf, they would certainly provide the perfect accessory for the discerning fan.
All support very welcome next Saturday (scarf or no scarf). Kick off time to be announced.
Victor French — Football and Kabbadi Correspondent