Fri 15th Jan 2021

Mist 2°C
The beautiful village of Tattenhall in Cheshire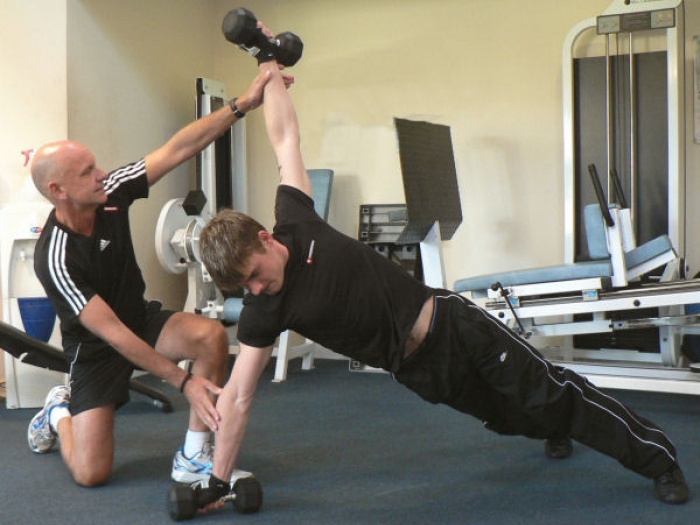 Dave Knott, DevaFitness:
October 2015
Every sportsman and woman needs to be fit to get the most from their sport. But FIT is a big word!
Fitness is not just one thing. Every sport has it's own unique blend of fitness components that must be in place for athletes and players to reach their full potential in their chosen sport. It's a blend of strength, speed, endurance, power, balance, core strength, flexibility, co-ordination, reactive speed,
agility and mental resilience.
The "complete" athlete or player works on each of these elements in their training to ensure success.
It's probably fair to say that most sports people keep fit solely by playing their sport. But if they wish to reach their full potential and attain success when simply playing may not be enough.
An experienced, strength & conditioning coach can identify the totally different "fitness" requirements of a runner, a wrestler, a skier, a squash player or that of any type of sportsperson and train each of them to create their own unique blend of fitness by taking through a training program designed to address every element of "fitness" required for their chosen sport.
Last December talented, Welsh sprinter Shannon Malone had already represented her country in competition but the Welsh national coaches in Cardiff realised that she lacked a key element in her training program and suggested that if she was to develop to her full athletic potential she needed to address this.
Missing, from her weekly training program, was Strength & Conditioning something many athletes overlook to their cost.
In the first week of 2015 Shannon began training with Dave Knott in the gym at Tattenhall Recreation Club to correct this.
By mid February her personal best times were tumbling as she won the Welsh 60 meter junior indoor championship followed two weeks later with a silver medal in the England Athletics Junior Championships.
Continuing her training with Dave through Spring and into the summer Shannon was continuing to record new personal best times over 100 metres outdoors, winning her first Great Britain vest and her season was complete when in July Shannon won a Gold medal in the European Junior Championships in Sweden.
Shannon recognised that the huge improvement in her all round strength and conditioning was the key to her new sprint performance levels as the only change to her normal weekly training was her gym workouts with Dave Knott each week.
This is not the first time that Deva Fitness has helped talented athletes improve their games by including a "Sport Specific" conditioning program targeting fitness elements missing from their normal training.
We've helped to develop reactive speed for footballers and squash players, strength endurance, core stability and balance for skiers, speed and power for rugby players and explosive power in multiple directions for a wrestler. We've even developed a program to help a female vet deliver calves more easily!
If you are keen to take your fitness and sports performance to a new level, whatever your sport, make sure that you include appropriate strength and conditioningwork in your training programs.