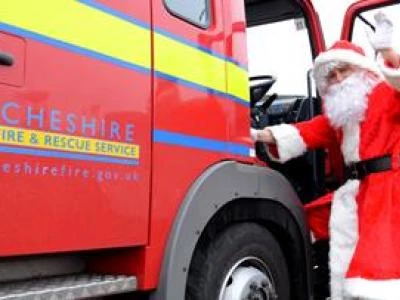 Many of the things we enjoy over the Christmas period, such as the fairy lights, candles, paper hats and decorations, can all be fire hazards when proper care is not taken.
Follow Cheshire Fire ans Rescues 12days of Christmas fire safety tips to make sure you're safe this Christmas.
12 days of Christmas fire safety tips:
Day 1: Check your Christmas tree lights conform to the British Standard.
Day 2: Never place candles near your Christmas tree or furnishings and don't leave them burning unattended.
Day 3: Make a fire escape plan – just in case u have an emergency during the festive period.
Day 4: Decorations can burn easily – Don't attach them to lights or heater.
Day 5: Always switch Christmas lights off and unplug them before you to bed.
Day 6: Remember! After drinking alcohol, the risk of accidents in the kitchen is greater.
Day 7 tip: Most fires start in the kitchen, so don't leave cooking unattended.
Day 8 tip: Drive safely this Christmas.
Day 9 tip: If u smoke, make sure that your smoking material is extinguished before u go to bed.
Day 10 tip: Use Christmas as a reminder to clean your smoke alarm to remove dust.
Day 11 tip: Don't overload plug sockets.
Day 12 tip: Check on elderly relatives and neighbours – make sure they are fire safe too.