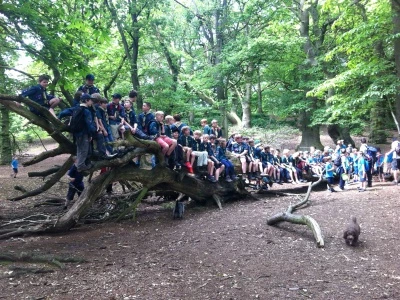 *****STOP PRESS****£2030 raised for Wateraid to date, on this event*****STOP PRESS*****
On Saturday 27th June, in quite spectacular weather, 80 young people took part in the annual charity 'Beeston Hike' organised by the Sandstone Scouts which welcomes Beavers, Cubs and Scouts from Tattenhall.
Our young Beavers, Cubs and Scouts from 1st Sandstone, 1st Malpas and 1st Tarporley led the way, with 25 adults and numerous dogs in hot pursuit (well the temperatures were terrific). Starting at Bickerton Hill, the group followed the beautiful Sandstone Trail and finished their endeavours at Beeston Castle. In need of refreshing ice creams, the youngsters then explored the Castle and learnt much about its history.
For 2015 the chosen charity was 'WaterAid'; their work transforms the lives of millions of people every year by prioritising clean water and safe sanitation. "We cannot do everything, but we must not do nothing"
In total, the Sandstone Scouts have raised £13,000 in the past 5 years for 'Children on the Edge' and 'Operation Smile'.
Well done to everyone!!