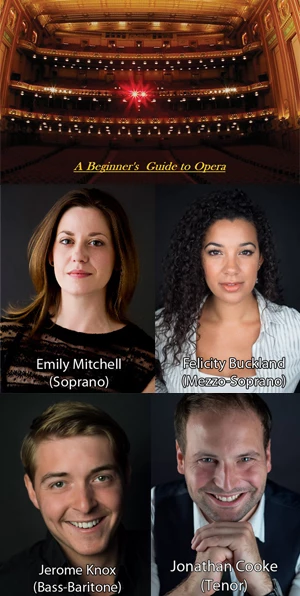 On Sunday 19th May at 6.30pm, the Sandstone Ridge Festival will come to St Alban's Church in Tattenhall with a programme entitled 'A Beginner's Guide to Opera', a lighthearted look at the evolution of opera through the ages. Four young professional opera singers and a pianist will take the audience through a brief history of opera from the seventeenth century through to the present time.
Joined by pupils from Tattenhall Park Primary School, the professional singers will perform arias and duets from well known operas like The Marriage of Figaro, La Boheme and The Barber of Seville, as well as some lesser-known numbers. Their aim will be to give the audience a well rounded overview of opera in the shortest possible time.
The concert culminates with an abridged version of one of the best-loved of all operas, Bizet's ' Carmen'.
On the preceding Friday, 17th May, the singers and their pianist will spend the day in the Park School, giving the children an introduction to the working life of performers. They will work with the children with a series of warm-ups and games, and also look to give them an insight into the world of opera, something which many kids may not get the chance to experience.
For more details, visit the festival website by CLICKING HERE. And you can buy tickets online or from Tattenhall Post Office.