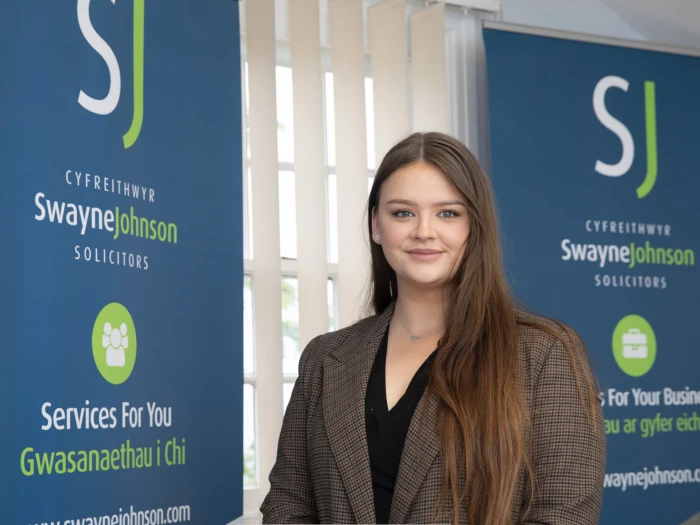 Arabic-speaker Yasmin boxes clever for a law career with Swayne Johnson
Not many young would-be lawyers are Arabic-speaking boxers -- even fewer of those are young women -- but Yasmin Bilsland is breaking the mould.
The 25-year-old from Huntington, in Chester, is on the team at law firm Swayne Johnson's office at Tattenhall, near Chester, where she is a trainee solicitor after starting as a legal secretary but she has other unusual accomplishments.
She learned to box at a club in Chester where her dad, Jim, was the coach and can speak and write Arabic after taking an evening course at Chester University as a break from studying for the Graduate Diploma in Law which set her on the road to a legal career.
Yasmin, who already had a BA in Criminology from Glyndwr University in Wrexham, admits her more unusual accomplishments were inspired by her first name and by her dad's position as a coach at Heavy Hitters boxing club in Chester.
She said: "When I was younger I think my mum hoped I'd do ballet but I was a daddy's girl and went to the boxing with him.
"I had a few bouts and did pretty well but I haven't boxed for a while so I won't be turning up for work with a black eye.
"The Arabic was because of my first name which is of Middle Eastern origin and there were evening classes in the language at the university so I gave it a go and I can hold a conversation in it and read it -- it's written from right to left.
"You never know, it could come in handy sometime."
She had decided at university that she would like to pursue a career in law and she said: "I knew someone at Swayne Johnson and she suggested I apply because it was really good there and thankfully they offered me a position.
"It's gone really well. It was a bit of shock to the system at first because I had never been in a law firm before but I've really enjoyed it.
"I am helping with private client work and I really enjoy that because I've always enjoyed working with people and helping them and at Swayne Johnson everyone has been very helpful."
Yasmin is one of four young women embarking on careers with Swayne Johnson, one of the oldest law firms in the area with offices at Tattenhall, Ruthin, Denbigh, St Asaph and Llandudno.
The practice can trace its origins back to the beginning of the 19th century but is one of the fastest growing firms of solicitors in the region.
It is also notable for the number of women it employs among a staff of over 50 from Head of Practice Sarah Noton down and for the breadth of its legal expertise.
As well as Yasmin they have recruited Bethan Hughes, from Carmel, and Alex Nash, from Greenfield, in the Denbigh office, and Naomi Turner, from Betws yn Rhos, at St Asaph.
Swayne Johnson Managing Director Sarah Noton said: "We're delighted to make four more high calibre appointments as we continue an expansion which has seen us grow from two offices to five in the last ten years.
"We know that within Swayne Johnson we have lawyers with a wealth of experience in all aspects of legal work and that makes this a very good environment for those who join us as trainees.
"We offer a comprehensive range of services across a wide area of law and we have the kind of high-quality expertise that means clients don't need to look to firms from outside the area for the legal skills they need.
"At Swayne Johnson we believe in building relationships with our clients and providing them with the reassurance that they're dealing with people who know and understand them."
WeLoveTattenhall