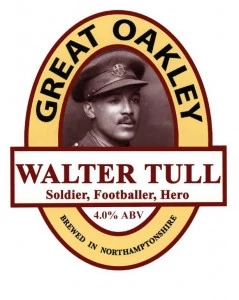 On this day in history, a remarkable young man lost his life in The Great War.
He is not one of our Tattenhall or Burwardsley men, but his story is remarkable indeed and whilst 'Black History Month' is not until the month of October, we thought that we would provide a brief historical taster during the month of 'March'.
Our selected individual this morning is 'Walter Tull' who died on this day, 25 March, 1918.
So who was Walter Tull you ask?
Walter Tull was one of Britain's first black footballers. He played for Tottenham Hotspur 1909-1911 and then moved to Northampton Town were he played 110 first games for the 'Cobblers'. Walter Tull is commemorated with a memorial at the Sixfields Stadium and there is also a beer named after him!
Walter Tull enlisted in December 1914 and rose through the ranks to become the Army's first black officer before being killed in action. He fought at The Battle of the Somme as a sergeant and was then promoted to second lieutenant. After leading his company of 26 men to safety in Italy, Tull was cited for 'gallantry and coolness' under fire, although he was never to receive the Military Cross (despite a petition to that effect).
A few weeks before Tull (aged 30) was killed in action, the Army Council was still insisting black people should not be enlisted into British army regiments. Cited for bravery under fire, Tull did not receive the posthumous recognition many now believe he deserves and the campaign to rectify this goes on ....
Black History Month in October will celebrate, recognise and value inspirational individuals and events from within the Black and Minority Ethnic Communities.