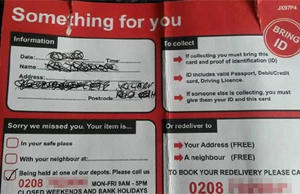 Residents are being warned about 'something for you' cards arriving through letterboxes designed to look like they have come from Royal Mail.
The cards which lack the Royal Mail logo look almost identical to the 'something for you' slips that are posted through homes when a delivery can't be made.
To organise a redelivery the cards urge recipients to call a 0208 number, which is not registered to Royal Mail. After ringing the number the automated message asks for your details and consignment number.
Please be aware that this is a scam, CLICK HERE for further details.