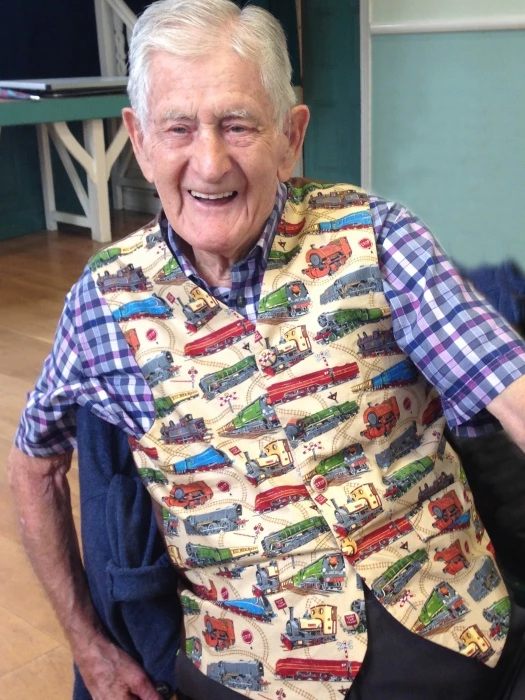 Quite how many nonagenarians live in Tattenhall is an unknown.
That said, since Her Majesty appears to be in the press daily as we continue to celebrate her 90th birthday, we thought we would feature one of our very own nonagenarians (individuals aged between 90 and 99)!!
Albert Carrigan, to the right, has lived in Tattenhall for the last 35 years, is actually 96 years young (yes 96!) and is remarkably fit for his grand age.
He worked as a Driver on the railways operating out of Chester between 1935-82. One recollection is that during the last War he was driving a train between the Saltney Siding Yard and Manchester and because of enemy air raids, the entire journey took a mere 32 hours!
His rather splendid themed waistcoat was organised by his son who lives in Dorset (I hope you are 'tracking' – sorry about the pun – this story). We look forward to seeing Albert wearing this during his visits to the 'Barbour Tuesday Drop-In' or when he comes down to watch our 'bowling matches'.
Albert has many interesting stories to tell to the point that his oral history will shortly be undertaken by Terri and Yvonne for the Local History Website.
If you know of other nonagenarians in the village then please let us know.