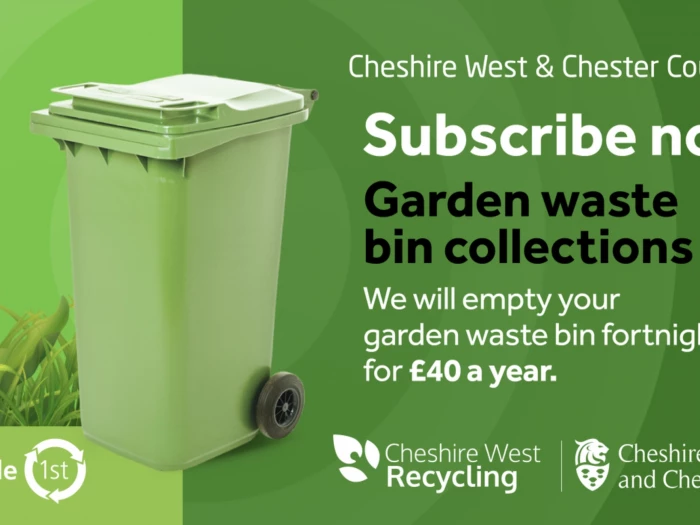 In line with the new Waste Management Strategy, the free garden waste collection service ended on Friday 3 December 2021. From Monday 28 February 2022, garden waste collections will become a chargeable service. Residents will therefore need to subscribe and pay for all their garden bins to be emptied by us. Garden waste bins will not be emptied without a valid subscription and displayed permit.
The new service will provide fortnightly collections over 40 weeks of the year with a suspension outside of growing season of 12 weeks (December to February). This year the suspension period started on Monday 6 December 2021 and collections resume from Monday 28 February 2022.
The service will cost £40 per year per bin that is collected and there will be no limit to the number of garden bins that residents can subscribe for.
What to do with current garden waste bins
To help the collection crews to manage the transition to the new service CWaC are asking residents to keep hold of their garden waste bins for the time being, regardless of if you want to subscribe to the new service or not.
Once the transition period is over, they will put in place arrangements for residents to request removal of unwanted garden bins.
Please note that if you ask for your garden bin to be removed then subsequently decide to subscribe and need a new bin, there will be a redelivery charge of £21.
How to subscribe to the new service
Payments will be taken with a valid credit or debit card. Once you have paid there will be a 14-day period where you can change your mind and receive a full refund. Once this period has passed, we will be unable to issue any refunds.
You will receive your permit in the post with full instructions and information about the service. You will need to stick the permit to your bin and present your bin for fortnightly collection – see your calendar to find out your collection day.
25 per cent (£10) will be taken off the subscription charge to help people who are in receipt of full council tax reduction. Proof of this will need to be provided at the point of application.
To keep the application and permitting simple, and ensure you receive a full year of collections, the best time to sign up for the new service is between December and February each year before the collections start.
For further information or to subscribe see the website here