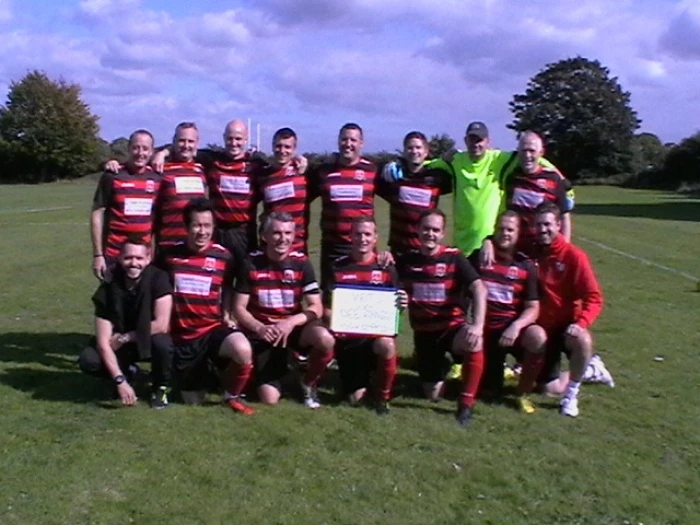 Egg-shaped ball costs Tattenhall Vets

Tattenhall Vets' five-year unbeaten streak came to a juddering end in the most unfortunate of circumstances at Christleton High School on Saturday afternoon (26th September). Making their debut in the CWFL Tarvin Precision Chester and District Veterans' league, the Vets encountered, for the first time in their history, an egg-shaped ball which played havoc with their traditional passing game. Manager Stuart Taylor, 34, said, "Had I realised we were playing with an elliptical bladder, I would have abandoned the expensive Nike balls the lads have been training with".
In addition, a freak injury to captain Tim Whitehill, while doing yoga exercises in 90 degree temperatures shortly before kick-off, robbed the team of its fulcrum. Taylor also rued the absence of talisman Ant Rouse, who, perfectly properly, but a little surprisingly, chose to spend the weekend with his mother-in-law, Cecilia, 65.
Ever-present, Chris Woodburn, 44, was quick to highlight that, having the two full-backs help the home team put up the nets, which clearly contravened the league regulations and resulted in pre-match fatigue to both George Latham, 30, and Chris Marshall, 62, almost certainly led to the early concession of a goal, if not two.
Taylor rejected any suggestion of sour grapes and pointed out that, all the above was nothing compared with the "uneven" refereeing performance and the square goalposts which the home side introduced. Notwithstanding all the above, Taylor is still looking forward to the next fixture against Newton away on 10th October, but is insisting that the ball used should actually be a sphere.
Score lines of course aren't important, it's the taking part that counts but, just for those interested in footling detail, it finished 6 – 3 to Dee Rangers .
Victor French (Impartial reporter).