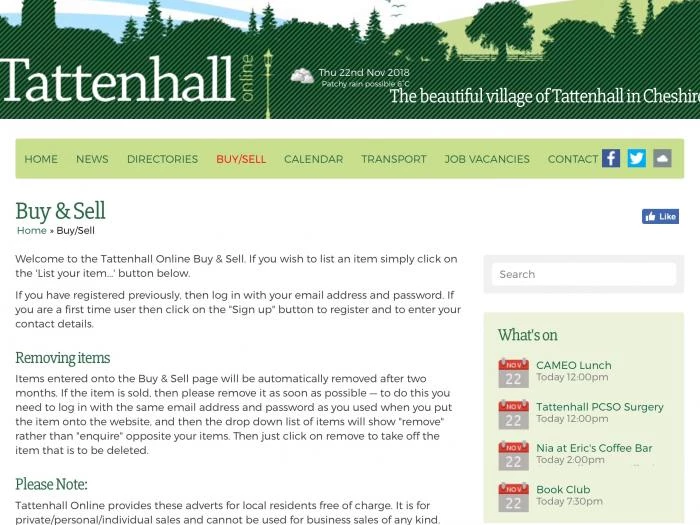 Did you know there is a facility to buy and sell items on Tattenhall Online?
This facility has been in place since the start of Tattenhall Online and is so simple to use.
On the top of any page you will see a list of pages at the top in a green banner, HOME/ NEWS / DIRECTORIES / BUY/SELL etc. Click onto the BUY/SELL page.
If you wish to list an item simply click on the 'List your item...' button below.
If you have registered previously, then log in with your email address and password. If you are a first time user then click on the "Sign up" button to register and to enter your contact details.
Then enter the details of the item, choosing from the category to buy, sell or free to a good home. There is a facility to add a photo if you wish. When all details are added press the done button.
At this point the item is made available to the web team to publish. Please bear with us, we are all volunteers so the site is not monitored 24/7, but we will publish as soon as possible.
Wanting to respond?
Click on enquire next to the item and fill in the boxes and press the enquire button at the bottom. An email is sent to the advertiser and your business is conducted directly with them, either by email or telephone if you are both willing. Please note that Tattenhall Online plays no part in these dealings.
Removing items
Items entered onto the Buy & Sell page will be automatically removed after two months. If the item is sold, then please remove it as soon as possible -- to do this you need to log in with the same email address and password as you used when you put the item onto the website, and then the drop down list of items will show "remove" rather than "enquire" opposite your items. Then just click on remove to take off the item that is to be deleted.
Please Note:
Tattenhall Online provides these adverts for local residents free of charge. It is for private/personal/individual sales and cannot be used for business sales of any kind. Neither should animals be listed on the site. Any issues regarding the goods or services listed on this page should be dealt with between the buyer and the seller. Tattenhall Online does not provide any assurances, warranties or guarantees for any listed items. Use this service at your own risk.