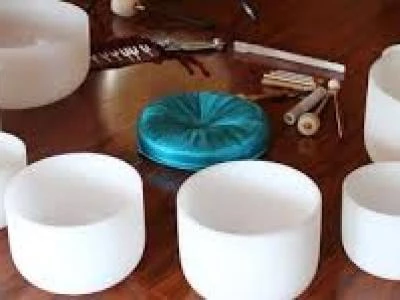 CRYSTAL BOWL / SOUND RELAXATION SATURDAY 25th AUGUST
12.30 – 1.30pm
The Healing Sound of Chakra Crystal Singing Bowls that work on the body, mind and soul is one way of changing your vibration.
As each cell gently opens, sound releases accumulated tension and restores your natural vitality, gives way to a deep state of relaxation, releases mental and emotional negativity along with balancing the hemispheres of the brain.
Benefits of the Healing Sound
relaxes and reduces stress, anxiety
calms and soothes
improves sleeping and concentration
balances the hemispheres of the brain
balances the chakras
expands awareness, consciousness
helps to heal the body, emotions and calms the thinking process
sharpens clairvoyance
Just lie and relax and enjoy the beautiful experience without any effort on your part!
Please bring water, a blanket and an open mind
Presenter: Jane Blackburn Cost:£10
Call Jill Raine to book tel:01829 20771895