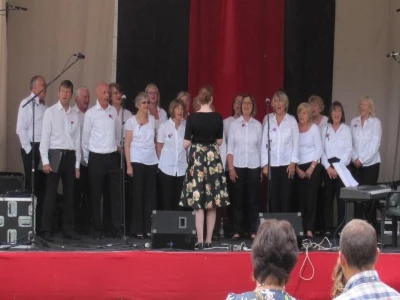 On the 24th of November "Chester sings".
From 6-8 pm, choirs have been invited to sing in various locations throughout the festive streets of the city.
The Tattenhallsingers are going to join in at these locations:
*6.40pm at the Eastgate Clock
*7.05pm at the Bridge Street steps to the Grosvenor Precinct
*Followed by a singalong of all choirs involved at 7.25 pm at the heritage bus.
It would be lovely if you came and supported us.
(A not unimportant detail: tonight is a late shopping day, meaning the park & ride at the Sainsbury's Roundabout in Boughton Heath will be running until 9.15 pm – last return bus from Chester)
The photo is of the Tattenhallsingers at a previous event in Chester (click to enlarge).