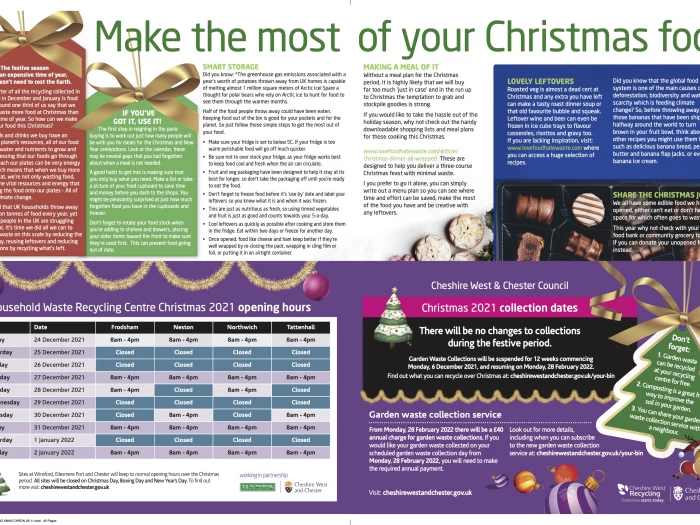 Christmas Advert -- Waste Christmas Services and Food Waste
Cheshire West and Chester Council has placed this advert about Food Waste and Waste Christmas Services in local newspapers.
The poster is rather detailed for reading online. Tattenhall Online has summarised key points below:
Food Waste Avoidance
1. Set fridge below 5 degrees C
2. Don't overfill fridge – allow air circulation
3. Leave fruit and veg packaged until wanted
4. Freeze food before Use By date
5. Tinned foods are nutritious and will keep until needed
6. Cool leftovers asap, refrigerate and eat or freeze within 2 days
7. Foods like cheese and ham keep better in fridge if well wrapped
Christmas Dinner
Plan meal in advance to prevent over-buying
Consider meals designed to help you deliver a three-course Christmas feast with minimal waste. Click Here For Article
Alternatively write out a menu plan so you can see where time and effort can be saved. Make the most of the food you have and be creative with any leftovers.
Tattenhall Household Waste Recycling Centre Christmas 2021
Date and Opening Hours
Friday 24 December 8am to 4pm
Saturday 25 December Closed
Sunday 26 December Closed
Monday 27 December 8am to 4pm
Tuesday 28 December Closed
Wednesday 29 December Closed
Thursday 30 December 8am to 4pm
Friday 31 December 8am to 4pm
Saturday 1 January 2022 Closed
Sunday 2 January 2022 8am to 4pm