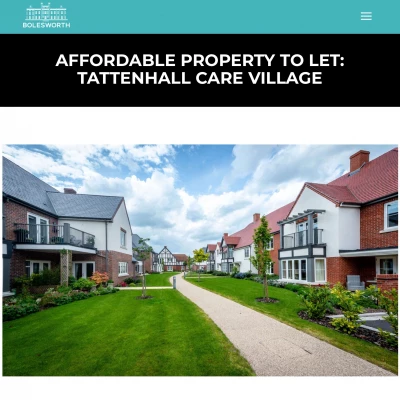 Located on the Inspired Villages complex, a one bedroom apartment, at affordable rent has become available. Situated in the picturesque village of Tattenhall, the apartment is designed to offer a more independent lifestyle whilst having the option to purchase additional care as and when it may be required in the future.
Eligibility Criteria
The property will be prioritised for people with a local connection and those that meet the criteria outlined below. If you meet the criteria and your application is successful you will be offered an Assured Shorthold Tenancy with Bolesworth.
It is our shared vision that affordable properties within the development are made available to local people and who are in need of care and support.
There are a number of qualifying criteria that must be met and that will be assessed through the application process.
You must meet the following criteria:
One resident must be over 65 years and be in need of care and support OR
Under 60 and registered for Disability Living Allowance OR
Under 60 and in receipt of a general practitioner certificate stating a disability OR
Under 60 and registered blind
CLICK HERE for further details. The deadline date for applications is 18th Dec 2020.