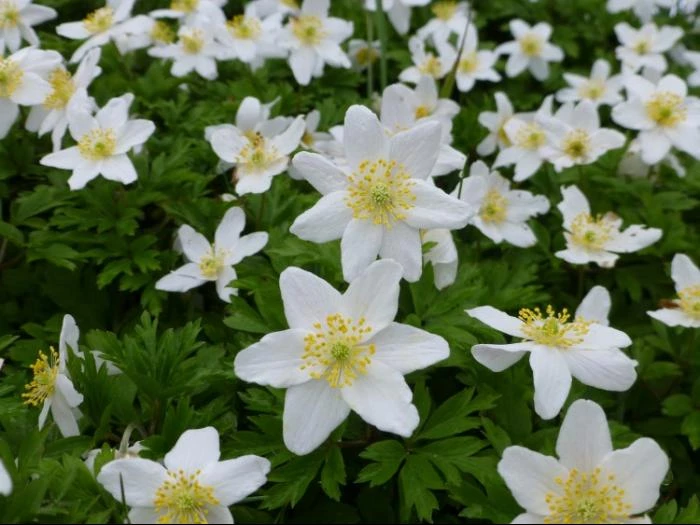 The Spinney was originally planted in the early 20th Century as a willow coppice.
The area provides deep shade and cover for a wide variety of flora. On a walk through The Spinney just this week, the following were logged:
yellow celandine
wood anemone (see image)
wild garlic (not yet flowering)
variegated yellow archangel
bluebells (just beginning to appear through the soil but not yet flowering)
It was pleasing to note that there was very little litter, albeit that there were 3 plastic bags full of 'dog poo' discarded on one tree trunk and/or hanging on the trees!
Tawny Owls and Great Spotted Woodpeckers are frequently heard and, of course, throughout the year, The Spinney is home to a large 'Rookery'. The area is an ideal nesting site for these noisy and argumentative birds. TWiG monitor the number of nests on an annual basis.
The old decaying timber, branches and boughs which have been blown down during high winds, provide habitats for a range of bugs and beasties, namely millipedes, centipedes, beetles and wood lice. These, in turn, provide food for the shade-loving toads which migrate to the Mill Pond annually for breeding. This site, by definition, is not a site which should be 'manicured'.
This Spinney is referenced in the Neighbourhood Plan as a site of 'Nature Conservation Value' and, for insurance purposes, our Parish Council organises the necessary tree inspections which are carried out by a qualified arboriculturalist. The last inspection took place in 2018 and all recommended actions have been completed. The Parish Council will have the trees inspected again in 2020.
It has been raised with members of 'The Kept Village Award Committee', however, that the perimeter fence needs to be removed and/or replaced – much of it is now completely rotten and is simply lying in pieces on the ground. A good sweep of the perimeter paths is also necessary since the paths are covered in tree debris (twigs/leaves/cones/seeds etc); perhaps groups of residents, therefore, might volunteer to clearing the perimeter paths in advance of the competition.