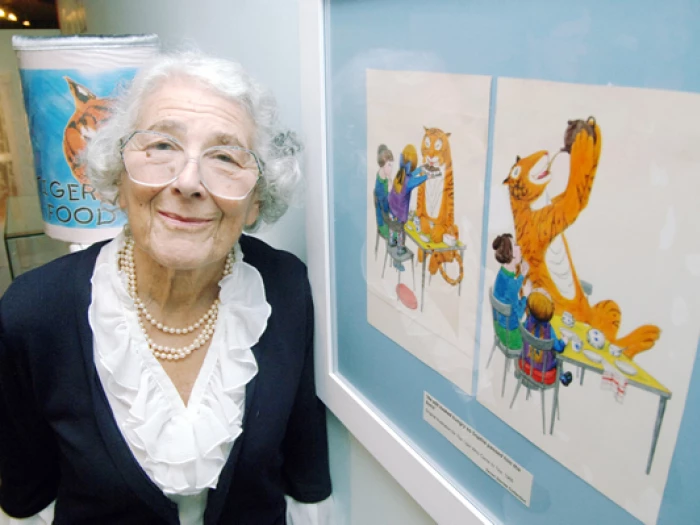 From early November until the beginning of January 2021, Chester's Grosvenor Museum is hosting a family friendly exhibition celebrating the much-loved children's book, The Tiger Who Came To Tea by author and illustrator, Judith Kerr. Originated by Seven Stories, the National Centre for Children's Books, the exhibition will feature artwork from the iconic picture book and a life-size model tiger.
The Tiger Who Came to Tea began life as a bedtime story for Judith Kerr's own children and was published in 1968. It soon became a classic and by the time it celebrated its 50th anniversary in 2018, it had been translated into 11 languages and sold over five million copies.
Judith Kerr was born in Berlin in 1923. She fled Germany before the start of the Second World War and settled in England becoming a naturalised British Citizen. Before starting her career as writer and illustrator, Judith Kerr worked for the BBC and the Red Cross. In a career spanning several decades she wrote the popular Mog picture book series for young children and a semi-autobiographical novel for older readers, When Hitler Stole Pink Rabbit. Judith Kerr died in May 2019 aged 95.
Seven Stories the National Centre for Children's Books is a museum and visitor centre dedicated to children's literature based in the Ouseburn Valley in Newcastle upon Tyne. Its mission is to champion children's literature as an essential part of childhood, national heritage and culture. Seven Stories is supported by Arts Council England, Newcastle City Council and Quarto Group.
The Tiger Who Came To Tea exhibition at the Grosvenor Museum is kindly sponsored by the Grosvenor Museum Society.
The Tiger Who Came to Tea exhibition will be at the Grosvenor Museum from 4 November 2020 to 4 January 2021.
Judith Kerr – photo credit Seven Stories Damien Wootton