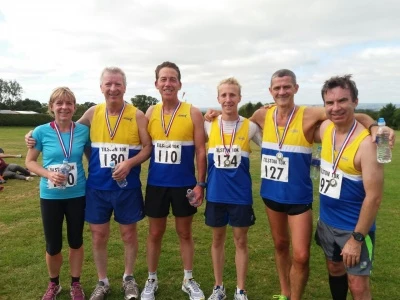 Tattenhall Runners were out again in force this week representing the club in a range of races including the Wirral Multi-Terrain Race Series, and the Tilston 10K.
Five Tattenhallers competed on Tuesday evening at the first of four in the Wirral Multi-Terrain Race Series; a 5-mile scamper round Thurstaston. 217 men and 108 ladies participated in the evening race. Tattenhall Runners' times were: Andy Sudlow, coming a very creditable 19th in a time of 29 mins 56 secs; Ali McNay at 39th in 31mins 29 secs; Rodney Jones at 153rd in 37 mins 34 secs Martin Durrant at 168th in 38 mins 24 secs. Kate Lightfoot, the 19th lady, stormed the race in 37 mins 13 secs.
On Sunday, 84 runners of all abilities took to the picturesque lanes between Tilston and Shocklach for the annual Tilston 10K race. The sun shone and there was good humour but this did not detract from the seriousness of what is described as 'Cheshire's Friendliest 10K'!
Racing was fierce, particularly at the leading end, with the course record broken by over a minute in a time of 33 mins 24 secs. Andy Sudlow from Tattenhall Runners took 2nd place for the second year in succession in a very creditable 37 mins 29 secs! 6 Tattenhallers variably chased the clock, the person in front or just a good time! James Jenkin came in 7th place overall in 41 mins 19 secs, taking a second off his personal best (for his age) and taking the Runner's-up Medal in the male veteran over 50 category. Had there been an over 55 category he would have won 1st prize, but alas there was no such category! Oh well, he consoles himself in not being beaten by an older man!
Other Tattenhall Runners' times were: Mike Davies 48:57; Lance Boseley 49:32; Robert Webster 50:14; and Debs Stanaway (timing to be determined)! : Regrettably, Debs inadvertently covered up her race number in the timing photograph and the author was unable to determine her finishing time. Perhaps she can enlighten us in due course!
In any event a grand day out!