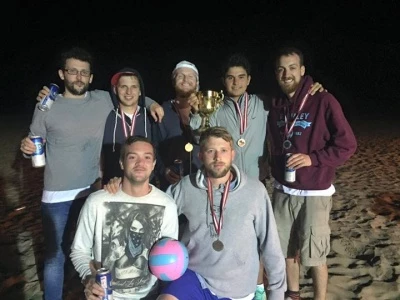 Swamp Soccer World Cup
On the 12th June, six hardy young men, four of whom hail from Tattenhall, travelled to Istanbul to represent their club, Bruce's Bogtrotters, and their country at the Swamp Soccer World Cup.
Having cut their teeth in previous tournaments in Scotland, they felt prepared for anything that could be thrown at them. This confidence grew as Bruce's Bogtrotters sailed through their group without conceding a goal.
But then came the might of Dr Tusz from Poland. twelve angry looking men, shaven headed and built like oxen, but lovely all the same.
Bruce's Bogtrotter's fought valiantly but a slim 1-0 defeat ended their hopes of becoming World Champions. They returned to Tattenhall with heads held high, a runner's up trophy held aloft, and mud in every orifice.
Special mentions should go to Joe Sumner, who won the Golden Boot, Matthew Evered, Player of the Tournament, Ben Cooke, Save of the Tournament and Charlie Cooke for organising the rabble and resisting the urge to play with a broken arm.