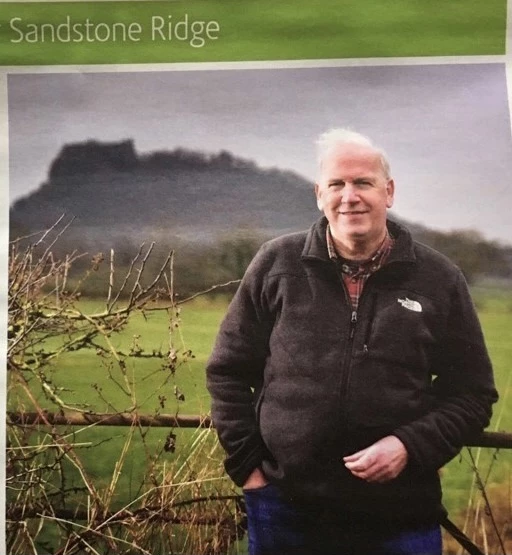 In this series, we spend 10 minutes talking to someone who lives or works in Tattenhall and share our findings with you. Today, we're talking to Andrew Hull.
How are you? Keeping fit and healthy, thank you.
Where are you from? I'm a 'Man of Kent', born in the City of Canterbury but lived on the Isle of Thanet during my childhood.
How long have you lived in Tattenhall? 29 years in December.
What do you like about the village? The strong sense of community and the existence of a significant wildlife corridor passing through the heart of the village. Oh, and the pubs and the businesses on our fantastically vibrant High Street.
What would you most like to improve in the village? I would like to further strengthen the wildlife corridor and to see some more land become available for further tree planting. Wherever possible, I would encourage all Tattenhallers to include a patch of wildflowers in their gardens – alternatively embrace 'No Mow May' – give lawnmowers a rest for four weeks!
Have you found any positive aspects of the Covid-19 restrictions? Increasing elements of tranquillity as a result of less traffic.
Who do you most admire, dead or alive, and why? Aldo Leopold. American conservationist who, in a 'Sand County Almanac' (1949), described the natural world around his home and developed the idea of a 'land ethic'. He, together with a number of other influential writers, has shaped my attitudes towards the environment.
You've volunteered to give up a lot of your time in your various roles in the village. What are they all and what was the trigger for volunteering for them?. I established Tattenhall Wildlife Group (TWiG) in 2005, which has been and continues to be supported by a committed and enthusiastic group of local volunteers who have become good friends – together we have made a collective difference.
Helping to run the annual Tattenhall Beer Festival over several years and which raised thousands of pounds for so many local and worthy charities – the Festival also offered some really tasty local beers too and was so well supported by the community!
Member of the original Tattenhall Neighbourhood Plan Steering Group – this was an interesting process with the Parish being one of the first communities to have a Neighbourhood Plan. It was great to be so heavily involved at the very beginning of this development.
I am currently Chair of the Sandstone Ridge Trust and we are working towards the designation of the Ridge as a new 'Area of Outstanding Natural Beauty'.
What do you want to achieve in these roles. In terms of TWiG we have achieved many of our aims. The presence of otters in the heart of the village was a significant highlight but the planting of Jubilee Wood in 2012 and the creation of the Flacca Wetland in 2016 continue to evolve and present increased numbers of plant and animal species on an annual basis. Nature has remarkable powers of recovery.
The Beer Festival is currently dormant (even before the pandemic) and awaits some new blood to take on the challenge. Sourcing and sampling the beers was great fun. Give me a call if you're interested in resurrecting it – pretty much everything needed remains stored in my garage!!
The Sandstone Ridge (part of which lies in Tattenhall) is a major challenge and, to be successful in our ambition, requires both local, regional and national support. If AONB status is achieved, this will help protect and manage this magical landscape for future generations.
What have you enjoyed most in these roles? Volunteering for all the above has been hard work (at times) but always rewarding and it's been great to see everyone getting involved. Seeing cattle grazing on Glebe Meadow was a highlight some years ago.
What do you do to relax? Perfecting my barista skills is a great way to relax – good coffee is not something to be rushed.
Walking, but learning to 'stop, look and listen'.
Creating playlists on Spotify.
Managing my Fantasy Football League team – 'Thanet Thunderbolts'.
As a season ticket holder, I have currently been watching Crewe Alexandra from the comfort of my sofa – an interesting experience but their performances (sadly) are not always 'relaxing'!
Favourite Film, music, play or TV program? Film: 'Withnail and I' or 'Fargo'
Music: too many 'favourites' to mention
Play: The Play That Goes Wrong – performed by a great little theatre company
TV Programme: Line of Duty, Spiral – oh, and of course, Father Ted.
Who would you invite to a dinner party or a drink in the pub?. Our children and their partners, for dinner. This latest lockdown has been tough when your children aren't local. In terms of the pub, I'd like to resume meeting Geoff, Ken, Keith and Reg for our regular Monday evening pint(s) in the Sportsman's.
If you could time travel, where would you go and when? Back to 1955, in the days of steam, to Crewe railway station for some very serious train spotting. or. 1960 to the Queen's Building at Heathrow just before the jet age – what an adventure!
Thank you for your time Andrew.