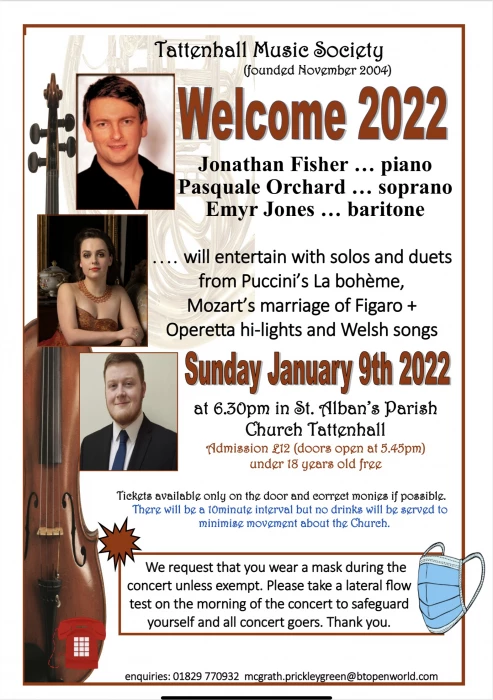 Sunday January 9th 2022 at 6.30pm Doors open 5.45pm
We welcome an old friend to Tattenhall Music Society Jonathan Fisher who will bring with him two singers from the Royal Northern College of Music, Pasquale Orchard, soprano and Emyr Jones, baritone.
There will be famous solos and duets from operas such as Puccini's La Boheme and Mozart's Marriage of Figaro, alongside popular Operetta highlights, and maybe some Welsh Folk songs!
Jonathan will be remembered for his memorable concert for the Armistice in 2018 at the Barbour Institute. He is an outstanding accompanist, in heavy demand and we are delighted to welcome him and the singers to Tattenhall. This will be the third of our season of five concerts.
Tickets will be £12 and pay on the door and if possible, we ask that you have the right money to avoid giving change. Under 18 years are free..
Any queries to Anne McGrath: 01829 770932 or mcgrath.prickleygreen@btopenworld.com
WeLoveTattenhall