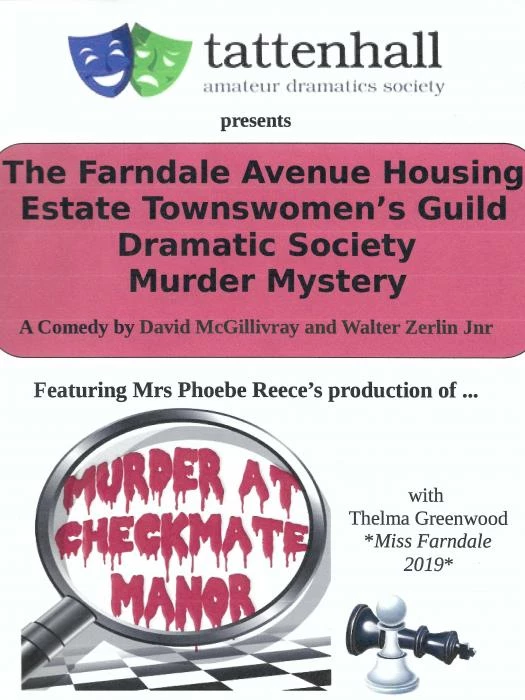 REMINDER

If you are looking for something to cure those January 'blues' then look no further than the latest production from the Tattenhall Amateur Dramatics Society, which for 3 nights only is re-formed as
The Farndale Avenue Housing Estate Townswomen's Guild Dramatic Society.

This group of talented actors will bring you a night of baffling intrigue and foul goings-on with "Murder at Checkmate Manor" during which you solve the clues and identify the guilty party. Also – and not to be missed – are Mrs Beasley's holiday movie & the Fashion Show "Townswomen Past & Future". At least, that's the plan, but – as this play-within-a-play demonstrates – some plans just don't turn out right ....
This is a fast-moving comedy of high theatrical ambition brought low as the cast struggle on through scenery disasters, bickering actors, wardrobe malfunctions and technical incompetence.
Tickets cost £10. *This is an adult production and not recommended for children under 12 years*.
Please note that all persons under 16 years must be accompanied by an adult holding a valid ticket.
Performances at the Barbour Institute, Tattenhall on 23-25 January 2020 at 7.30 pm
Online ticket sales from at www.ticketsource.co.uk/tattenhallads/e-voydrd  or on tel. 0333 666 33