Fundraising at the BI.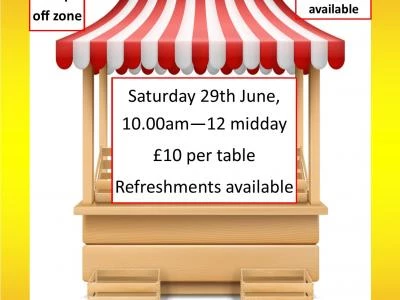 As Tattenhall's Village Hall in every way but name, the Barbour Institute is an integral part of village life here in Tattenhall.
Following on from the retirement of our Fundraising Trustee and faced with ever increasing utilities and maintenance costs for such an old building, the Trustees at the BI have been looking at various ways to fundraise.
CLICK ON IMAGE TO ENLARGE
The Table Top sale this Saturday is being trialled as a possible regular fundraiser, with a view to holding sales monthly in autumn and winter as an alternative to a car boot sale (warmer and drier!) It is also a great way to be greener
REUSE, REDUCE, RECYCLE !
The Sale opens at 10am – 12 midday, entry is free. There will be refreshments available (teas and coffees with Danish pastries this time, bacon butties once we are up and running).
We have over a dozen stalls booked, selling homeware, clothing, shoes/ hats, gardening equipment, toys, books, furniture, soft furnishings, children's clothes etc. 2 of our sellers have been in touch this week to ask for extra tables.
It's amazing how much unused/ surplus stuff we have at home and it really does feel great to have a clear out. All we need now to make sure that the event is a success is SHOPPERS!!! So, with the weather looking to improve later this week, why not have a
wander down this Saturday morning and see what bargains you can find ' then head home to enjoy the sunshine!
Other BI fundraising events planned include an autumn jumble sale, a Sing-along Film Night and Tattenhall's Non-Ball, both in September. See our facebook page and website for details.
We are also thrilled to celebrate our longstanding relationship with Tattenhall Am Dram Society by becoming their nominated Local Charity for the next year.
Unfortunately, due to lack of volunteers, there will be no book sale or Bingo nights this year.
Tattenhall Community Association.