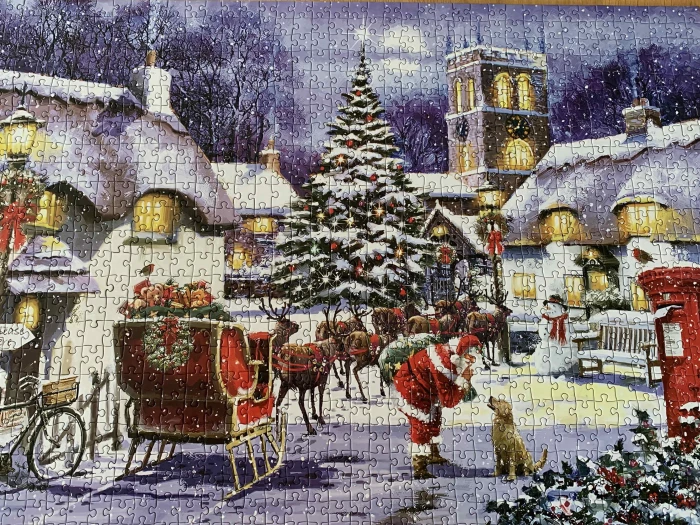 Traditional Pastime Helps Out
Jigsaw puzzles have been around since the mid-1760s, originally made of wood but then made more accessible by mass-production techniques in cardboard after World War II.
The coronavirus crisis has caused a huge boost in popularity with surprising results. For example, a Xmas jigsaw stayed un-opened in its box until March-April for one of Tattenhall's self-isolating couples but better late than never as the picture shows. As well as being good fun, there is evidence that jigsaw puzzles are good mental and manual therapy. The surge in popularity as a result of lock-down has resulted in some shortages but there is still a plentiful supply available that can be ordered online for home delivery.
For those who can, jigsaws can also be completed online, look at the appstore to download, one of our editors has used these for years, using them as a perfect de-stressor when travelling home on the train after work.
Sir Patrick Stewart, British actor of Star Trek fame and many other roles, revealed on TV recently that he was a jigsaw puzzle aficionado. He likes to have a puzzle on the go and he's currently about a third of the way through an early Cubist portrait of a woman in a chair by Picasso.
"It's quite tricky as there are big areas of solid colour. But it truly makes you look at the painting and its detail, it teaches you a lot."
It's not necessary to emulate Sir Patrick's upmarket taste. A picture of the Eastgate clock or an English Country Garden can be equally satisfying and maps of the world are truly educational.
Let's hope you can do better than Mrs Browns' friend Winnie of "Mrs Browns Boys". She proudly announced that she had completed her puzzle in six months, which she claimed to be very good as it said 2-4 years on the box!!!