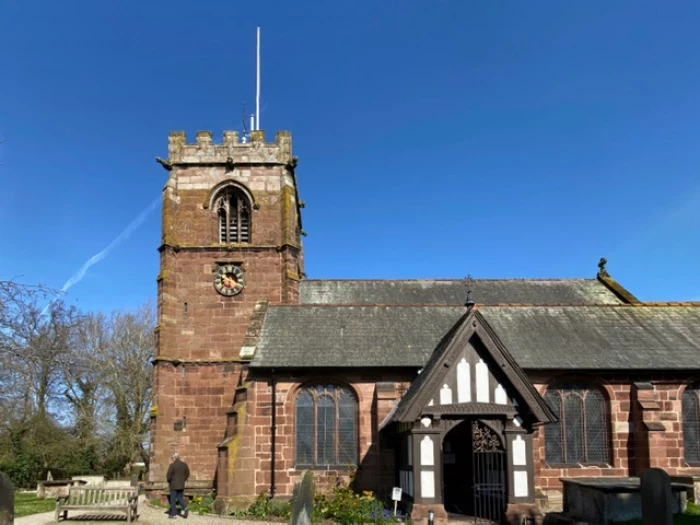 St Alban's and the Parish Council always work together on matters affecting residents of the village and such was the case at the start of the Corona Virus crisis with the set-up of the Tattenhall Community Help Group. During this time of uncertainty the Church is very involved with supporting the Community. Many people were pleased and touched to receive a card at Easter giving assurance that no-one has to face this crisis alone.
Father Lameck ensures that pastoral care continues and leads four audio Services a week (Monday, Wednesday, Friday and Sunday) via email or the church website. (please feel free to give Cathy your email contact if you would like to receive these inspiring audio devotions and Sunday Services).
Occasional daily devotional broadcasts and the prayer group lead by Father Lameck and Carol Moore on Mondays and Fridays, give plenty of opportunity for reflection and worship. Father Lameck is always available to support all who need help especially those coping with a loss when funerals have to be a very private affair. For Father Lameck call 01829 770245.
The Tattenhall Community Help Group (call 07595613668 between 9 am – 5 pm) is there for all to access. If you need help with shopping, prescription collecting or any other errand or reason there are many volunteers waiting to help you. Just call the number.
St Alban's is also operating an informal Food Bank. Several families together with elderly vulnerable residents of the village who are having difficulty coping have received a box of assorted food and useful items. If YOU need help just call the helpline. If you can donate food, toiletries or cleaning products (or anything else which is useful and needed) you can do so by leaving goods in the Church porch or the specially designated box in Spar. Contact numbers can be found below.
HELP AND SUPPORT are always available. YOU ARE NOT ALONE. If you are worried, lonely or unhappy call any one of these numbers:
Helpline: 07595 613 668
Fr Lameck: 01829 770245
George: 01829 770482
Ruth: 01829 771841
Any queries regarding Food Bank giving and receiving
Cathy: 07825330760
Dee: 01829 770553
To be added to Audio Service Email list
Cathy: 07825330760
Website www.tattenhallchurch.co.uk

TOGETHER, KEEPING OUR CHURCH AND COMMUNITY ALIVE!