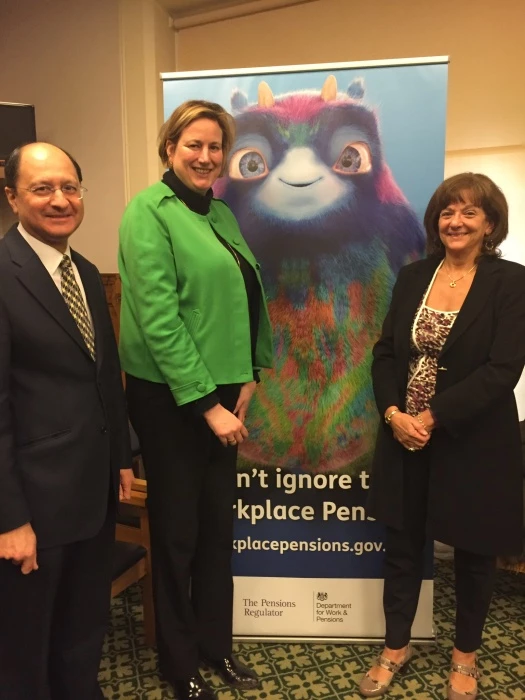 Antoinette Sandbach MP has called for business in Eddisbury to get ready for the ground-breaking workplace pension reforms that have started to roll out to small and micro employers.
Since 2012, some 5.8 million workers have been automatically enrolled into a workplace pension by 78,000 employers. But this process began with larger businesses, and it is only now that smaller firms right down to employers with only one employee are beginning to enrol their staff. It is estimated that around 9 million workers will either be newly saving or saving more into a workplace pension by 2020 thanks to the changes.
Antoinette Sandbach MP for Eddisbury said:
"This is about changing a culture and the way that we as society approach saving into workplace pensions. Workers will now be automatically enrolled by their employer, this is good news for workers but I'm keen to promote this to businesses and make sure that everyone in Eddisbury is aware of the changes and prepared. This affects all employers whether they have one employee or hundreds."
Minister for Pensions Baroness Altmann said:
"In the past three years well over five million people have successfully automatically enrolled into a workplace pension – but the hard work starts here. We have made great strides forward in establishing pension saving at work as the cultural norm once again, but we need this momentum to continue. Employers in all areas including Eddisbury will be required to automatically enrol their staff. "

"Rolling out to small and micro employers brings with it new challenges, which is why we're working hard to ensure they have the right level of support at every step of the way to help them through the process. It is absolutely right that as many people as possible have the chance to save for later life, with the help of their employer."
Automatic Enrolment will fundamentally change the way society approaches saving into workplace pensions. Instead of opting in, as was generally the case in the past, people will be automatically enrolled by their employer provided they are earn over £10,000, are over the age of 22 and have not reached State Pension age.
The Pensions Regulator has responsibility for the day-to-day running of automatic enrolment and is there to help employers meet their legal obligations. They have developed a simple interactive online guide with step-by-step instructions specifically for small employers including those who only employ one or two staff. The guide explains what these employers need to do, by when, how long it should take, and what's coming next.
You can check it out HERE.