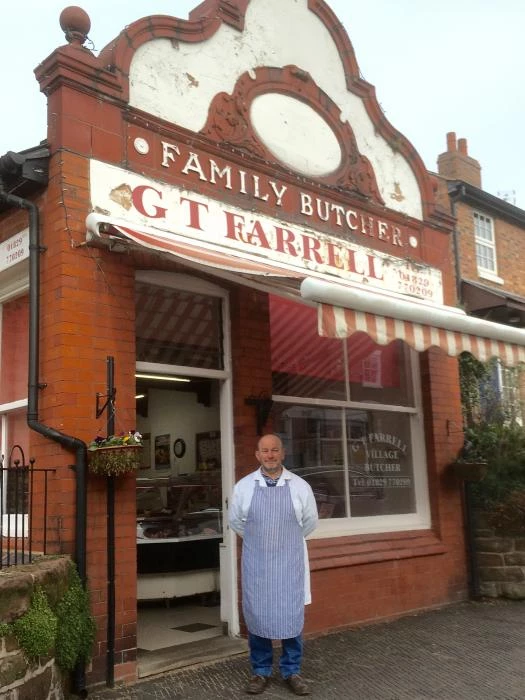 Shop on Our High Street.
Twenty five years ago there were two butchers shops in the village High Street, Vernon's which is now part of The Sportsman's Pub, and Gosmore's. They had been butchers in the village since the 1920s. There also used to be an abattoir behind the shop; so the meat did not travel far!
Gerry Farrell bought the business 17 years ago, and has become well known for his banter and his jokes, a suitable one for everyone! ( Was an alternative career path to be a Stand up comedian?) He had previously worked in the market and then had his own butchers shop in Chester.
He has also become known for selling local or British meat. He gets his chickens and more seasonable produce, like pheasant and venison, from local suppliers in Shropshire. His beef comes from Huxley, born, and reared locally!
All his meat is covered by the Assured Food Standard, www.simplybeefandlamb.co.uk, which guarantees that the meat produced reaches a Quality Standard for beef and lamb. If it has been born, reared and slaughtered in England it carries a St. George Flag, if in Scotland or Wales then a Union Flag! He does, however, stock Danish bacon!
He has always tried to provide particular joints of meat, if they are ordered in advance, and he will come up with the recipes at times! – Slow cooked brisket, crispy belly pork, stuffed lamb breast, he used to cook pigs trotters, the meat is absolutely delicious. Michelin star restaurants serve them at a vast cost, but his children thought he was poisoning them when he dished them up! But taking 3 hours to cook, food like this is cheap but doesn't meet the current trend for quick and easy cooking!
He supplies a number of local business, with his meat, the pubs, Alison's Cafe, the schools in Tattenhall, Burwardsley and Beeston and the Marina. He has lots of regular customers, and if he doesn't see them for a while, he worries about them, especially the older ones!
But the butchery trade is changing, with the thought of global warming people are tending to eat less meat. Good meat is slightly more expensive, and wages have stagnated, so the trend is to buy cheaper cuts from the supermarket, or to eat vegetarian dishes. Butchers shops across the country are closing down. Our High Street needs the support of the local community to keep it a viable alternative to travelling to our nearest shops in Chester or Holt by the car or on the bus.
The Green alternative is to shop local, some customers have even started to take their own containers to put their meat in to cut down on plastic bags!
So pop into Gerry's sample his produce and savour a touch of banter !