Fri 25th Sep 2020

Heavy rain at times 13°C
The beautiful village of Tattenhall in Cheshire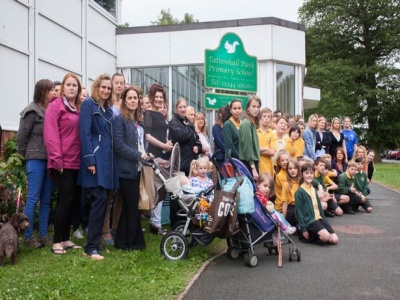 Webteam:
July 2015
Members of our community have vented their frustrations in relation to recently implemented changes to school transport policy in our locality. Gathered outside of the Tattenhall Park Primary School and having hit the headlines in The Chester Chronicle, the residents of Tattenhall prepared for a showdown in relation to CWaC's changed policy which is scheduled to commence in September 2015 and which penalises rural villages like Tattenhall.
In context, CWaC has always provided free school transport to pupils travelling to Bishop Heber School, Malpas; a distance of more than three miles from Tattenhall. Following a consultation in late 2013, CWaC (under the then leadership of Cllr Mike Jones) pushed through plans to change the existing school transport policy. The result is devastating and divisive for many families within Tattenhall since free school transport is now to be provided only to those children who attend their nearest secondary school. In the rural settlement of Tattenhall, for example, pupils now find themselves geographically closer to any one of 4 designated secondary schools i.e. Bishop Heber at Malpas, Tarporley High School, The Bishops' Blue Coat Church of England High School in Great Boughton or Christleton High School.
Tattenhall Park Primary School is a principal feeder school to Bishop Heber School. This has always been the case historically; the existing senior school on the High Street closing in the 1970s and relocating to Malpas. Some Year 6 pupils who selected their designated catchment school for September 2015, now find themselves facing the dilemma of attempting to gain a place at Christleton High School, The Bishops' Blue Coat Church of England High School or Tarporley High School because they are now denied free school transport to Bishop Heber High School. For example, a pupil living at one end of the village might now be classified as living nearer to Tarporley High School (6.75 miles) rather than to Heber High School (7.2 miles) and will only be provided with free school transport to the nearer of the two schools. It literally depends where a pupil's house is located in what is a compact village. The irony too is that the secondary schools in Christleton, Great Boughton and Tarporley are already likely to be oversubscribed, so pupils will have to look even further afield.
The policy appears very shortsighted and one has to question the extent of any financial savings in that additional buses will now have to be provided to these 'geographically' closer schools rather than allowing the pupils continued access to free school transport to Heber High School.
An uncertain alternative for these youngsters is that they use the public bus service from Tattenhall to Malpas at considerable additional cost to many families and assuming that the current public bus service can accommodate these additional students in September 2015 (and thereafter in September 2016, 2017 etc). Alternatively, parents have been asked to consider the 'Spare Seat Scheme' which would allow those pupils affected by these changes to secure a place on the current school bus to Malpas but at a cost of £880 per annum. Parents have been advised that these places are limited and that they should not presume that they will automatically be allocated a place because there is alternative public transport!
Some parents of pupils living in Burwardsley have managed to overturn the Council's decision since it was revealed that errors had been made in measuring the distances between the home address and the nearest designated secondary school. In this respect some families have been more fortunate than others and for those pupils they have now been offered free school transport to Heber High School.
This highly contentious matter was raised at this month's Parish Council Meeting. The Parish Councillors expressed their support and stated that they would be contacting CWaC. The mood of the 'public forum' was of utter disbelief, not least because of the potential costs involved for some families but because some families would now find that siblings are receiving their secondary education at different High Schools. Government commitment to 'every child matters' does not appear to be the case in relation to the pupils of Tattenhall. The safeguarding, uncertainty and vulnerability of these youngsters in attempting to travel to Heber High School on overcrowded public transport in the depths of winter and at significant additional cost to their families was of considerable concern.
We seek an urgent review of this policy and urge you to write to our MP Antoinette Sandbach.
Her contact details are — antoinette.sandbach.mp@parliament.uk