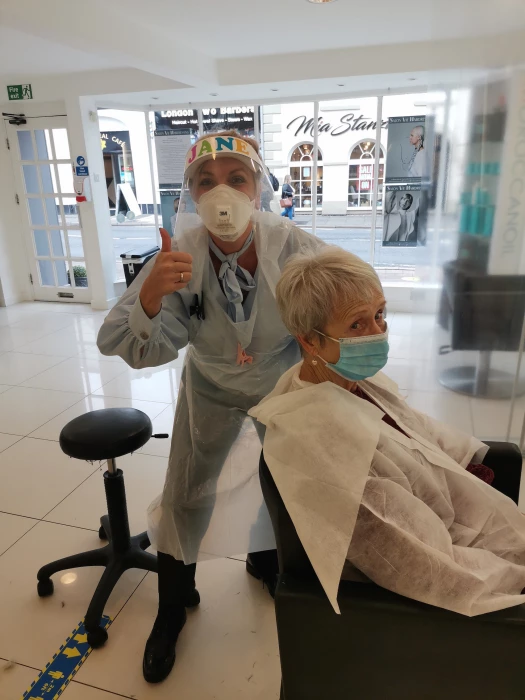 Hairdressers have been particularly badly hit by Covid-19 because of the difficulty presented by proximity of hairdresser and client.
We have heard from a Tattenhall resident who prior to the epidemic was a loyal customer of Salon Vie in Tattenhall. This is what she told us:
"Months of lockdown without a hair-do was driving me crazy so the news that hairdressing salons could open again was light at the end of the tunnel. However I was still very fearful of the risks involved as it was difficult to see how my hairdresser could protect me"
"My regular Salon Vie in Tattenhall was not yet opening but it was announced that their salon in Nantwich was now open. The Salon Vie homepage – Click Here "
We've re-opened, in Nantwich only where we're able to properly inplement COVID-19 protocols. Please visit our Facebook page to see the in-salon protocols for COVID-19 – Click Here.
"Still nervous I went to the Facebook page and watched the video there. The measures described there seemed incredibly thorough, reassuring enough to persuade me to book an appointment"
"The journey of 15 miles from Tattenhall took 30 minutes and the nearby Snow Hill Car park is lowly priced and free after 3pm. The salon implemented all precautions rigorously as per the video so I departed safe and sound with perfect hair."
Salon Vie, like many small businesses, has been severely affected by Covid-19. All efforts are being made to make the re-opening of the Tattenhall salon a possibility in the future but the difficulties are formidable. Overhead costs in Tattenhall continue but with no income from the site. The Covid-19 precautions implemented in Nantwich are costly and currently would need to be replicated in the Tattenhall building. The Company will provide an up-date in the near future. In the meantime it offers a secure and welcoming service to its Tattenhall customers in Nantwich.