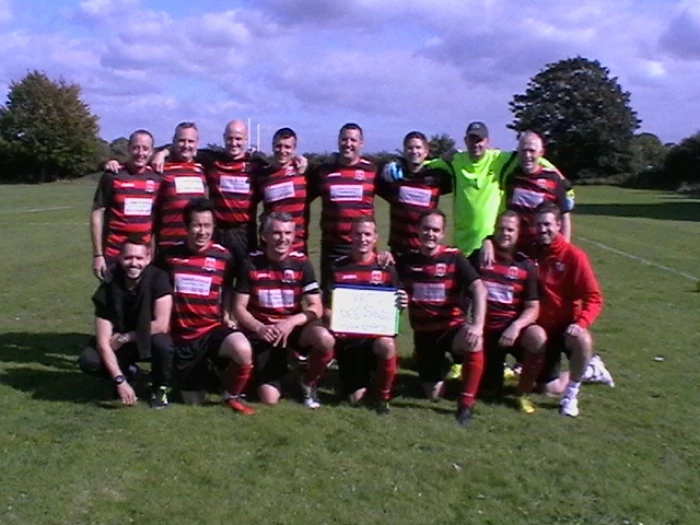 Tattenhall Vets banished memories of the opening day reverse to Dee Rangers (tainted by irregularities with the matchball) by beating Newton F.C. 8 – 1 in the CWFL Tarvin Precision Chester and District Veterans' league at Christleton on Saturday afternoon. In a tetchy affair, the Vets held their composure and, after a couple of early scares, gradually amassed an impressive haul, thanks in part to a Ben Erwin hat-trick. A combative and capable Newton started brightly, but signs were apparent, even before kick-off, that they hadn't approached their pre-season with the necessary intensity. As well as some extra time on the treadmill, a course in anger-management and a trip to see the Dalai Lama would benefit the spine of their team and may prevent them metaphorically, and in this match literally in the 85th minute, seeing red. The return of Stu Raine, Tim Whitehill and Richard Morse bolstered the Vets and, although under-fire manager Stu Taylor was reluctant to pick out individuals, he did state that the decision of Chris Marshall to visit relatives in Scotland had proved pivotal.
The axis of Whitehill and Chris Woodburn, reunited in central midfield, initially took control of proceedings, before turning the advantage into total domination as the game wore on. Ant Rouse, in for the side-lined Andy Manson, and fresh from a lovely weekend with his mother-in-law, Cecilia 62, helped stiffen up the back four. There were also bright second half showings from former Player of the Year Mat Green and Matt O'Sullivan, with each getting on the score sheet. Indeed, strong performances throughout suggested that Tattenhall could still be in the mix when the silverware is handed out.
Manager Stu Taylor, who had come under early pressure after a poor start to the season, admitted that it had been a difficult couple of weeks, but was confident that the board were still behind him. He insisted that the Dee Rangers result had been "fake" and that if the Vets had a team doctor, she would have been sacked by now. In a veiled swipe at the media, he spelt out the mantra that underpins his coaching philosophy – "I'm not concerned what the press write or even what the board think. For me it's all about the fans. If they're both happy, then so am I".
Victor French, football and beach volleyball correspondent