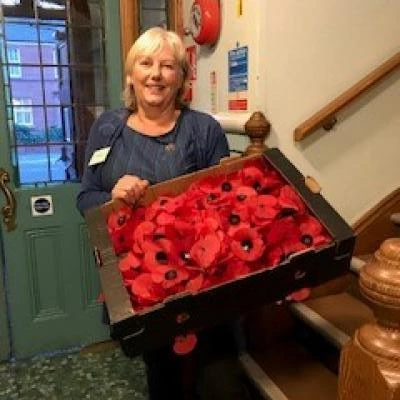 Last week, The Barbour Institute was delighted to present over 750 poppies to Sue Gamble of Tattenhall WI, representing the Barbour's involvement in the Wall of Poppies Project – the WI hold their monthly meetings at the Barbour Institute.
The 'Wall of Poppies' will be on display at the Barbour Institute for the duration of the Tattenhall Armistice Centenary Commemorations.
'
In keeping with the Barbour's 'Re-use, Reduce, Recycle' ethos, the poppies were produced by recycling wreaths that were placed at the War Memorial last November.
The Barbour Institute would, therefore, like to thank Tattenhall Brownies, TOFs, The Ice Cream Farm, St Alban's Church, Tattenhall Park Primary School, the Sandstone Scouts and the Tattenhall Community Association for granting permissions to undertake the recycling of the wreaths.
Thanks also go to Caroline at the Barbour who painstakingly attached gardening wire to each and every one of them – well done Caroline!