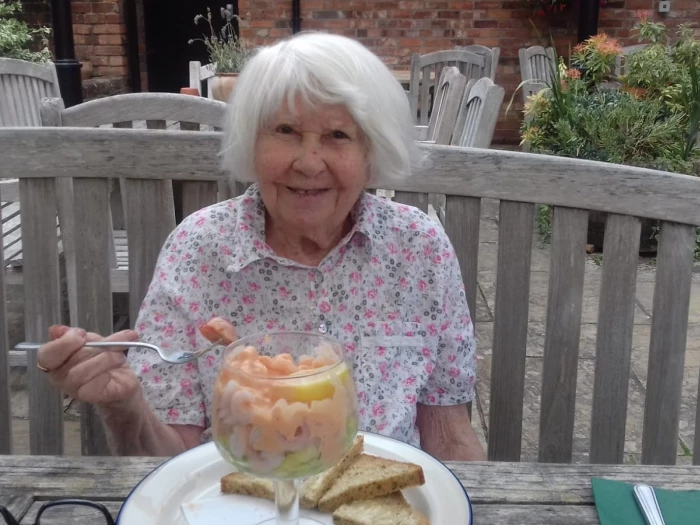 Renee died peacefully in Pinetum Care Home on 22nd January 2021, aged 94.
Renee and Bill moved to Tattenhall in 1970 and she spent 50 happy years thriving on village life. She worked for many years as the receptionist at the village veterinary practice. She was always fully involved with community organisations and always on a committee! Along the years these included the Mothers Union, PTA, Age Concern and the bowling club. She baked for all events and was famous for her scones and lemon meringue pie.
When she arrived in Tattenhall, she enquired about joining the bowling club and was told women were welcome but to make the teas. With Bill's help and few more pioneers, they formed the Ladies Bowling Club at the Sportsman's Arms.
It was her wish to remain at home as long as possible, and until her admission to hospital after a fall in February 2020, she could still go upstairs to bed, safely 'tucked in 'by Sue. She was able to remain at home because of the love and care of the Tattenhall community. She was always very grateful but we believe it personified 'you reap what you sow'.
Her wish to stay independent was only possible because of the kindness and care she received from Sue and Harry Forshaw (and family), Tattenhall Local Carers, Tattenhall Surgery, Tarporley Cottage Hospital and her many kind and generous neighbours and friends.
Thank you to you all,
Ross and Jenny Turner ( rosswturner1@aol.com )
Ann (Turner) and Paul Green, grandchildren Charlotte and Jackson Green (annsgreen58@gmail.com)
Due to Covid, we are holding a small family funeral at Northop Hall Crematorium but hope to hold an event to celebrate her life in the future.