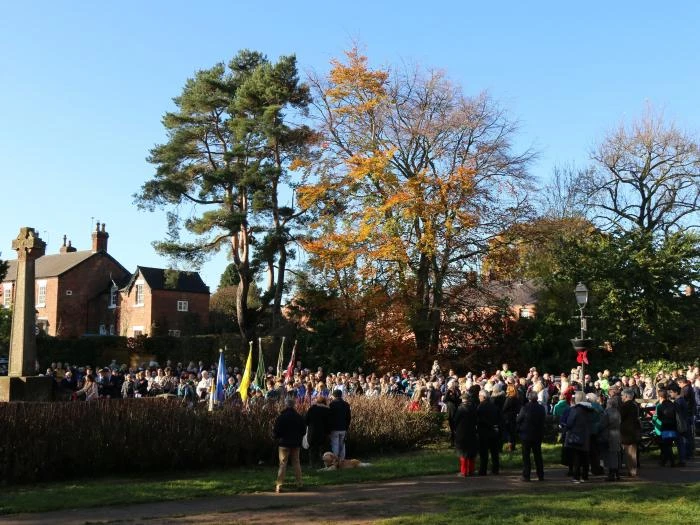 Tattenhall War Memorial is currently cordoned off.
Sections of the gravel area adjacent to the Memorial appear to have slipped away, causing what appear to be sink holes.
As a precaution and in advance of a Survey by a Geotechnical Engineer, access to the area is currently restricted (effective Friday 9 October).
The Parish Council has swiftly erected red warning barriers to prevent access and Heras fencing will be installed over the weekend.
A visual inspection of the wall and the War Memorial itself hasn't highlighted any issues or movement, noting that in 2004 significant work was done by the Parish Council as a result of previous subsidence to the Wall.
CW&C Highways Officers are aware of the situation and have also sent out an engineer to inspect the area due to the proximity of the footway and the highway.
The most likely cause is the Mill Brook or that the drain is overflowing under the gravelled area and has washed away the subsoil. The volume of water in recent days has been immense with both amber and yellow weather warnings. However, the engineer's survey will reveal the causes and the extent of the damage.
The Parish Council asks that individuals do not enter the area and anyone who might wish to lay a wreath or cross can do so by George the War Horse.
Some local residents will recall that in recent years the War Memorial (erected in 1922) had started leaning because of movement of the substrate. There were also signs of movement to the wall at the rear of the Memorial.
A geotechnical assessment revealed that the Memorial had actually been erected on very loose soil and peat, unsuitable for supporting such a monument. This, together with a diverted stream and the planting of trees on either side of the Memorial, had resulted in the ground drying out. It was recommended, therefore, that the walls, steps and paving be dismantled, a new foundation be constructed, loose sand and peat be removed and that the walls, steps and paving be rebuilt.
A Heritage Lottery Grant enabled this conservation and repair work to be undertaken and a 'Re-dedication Ceremony' took place on Sunday 10 October 2004.
CLICK HERE to read more about the War Memorial on the Tattenhall Local History Website.