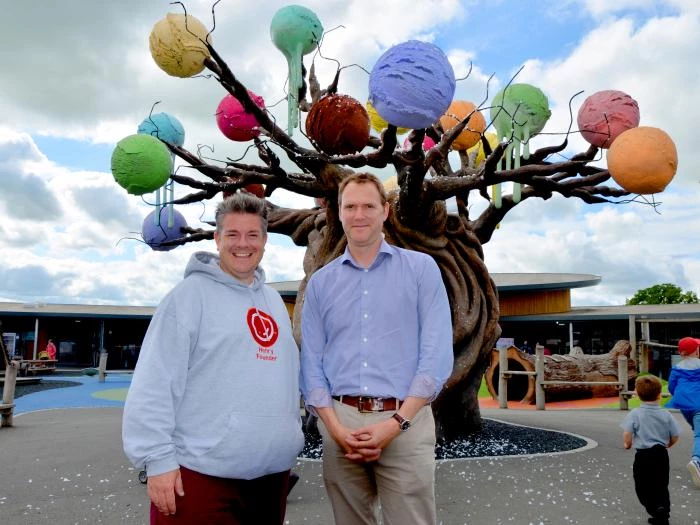 The Ice Cream Farm partners with GoBubble social media network for under 13's

The Ice Cream Farm, home to the 'World's Largest Ice Cream Shop' has teamed up with GoBubble, in a bid to keep kids safe online and promote kindness on social media.
The Ice Cream Farm family attraction, based just outside Chester, is one of the first businesses to be invited to join GoBubble. Developed by one of the UK's leading teams of online safety innovation specialists, GoBubble was created to support those children who use social media before they're old enough, to give them, their parents and schools a protected space; stopping inappropriate online contact or content, which can be a problem across the main social media platforms.
Giving caregivers a solution to deal with the growing issues surrounding children accessing social media, GoBubble is the brainchild of former Police Sergeant and 'e-safety guru', Henry Platten, who also co-founded the multi-award winning eCadets online safety education programme.
Research shows that 170,000 children go online for the first time every day and cyberbullying is a parent's number one concern. GoBubble removes potential risks and allows children to take advantage of the best bits of social media without experiencing the negative aspects.
The GoBubble app ensures that all posts are automatically moderated through the system's safety features, and any inappropriate video, images, text, audio or emojis, are removed before going live. Importantly, GoBubble also rewards children for their kindness to one another online, instilling positive behaviours for future social media use.
Jonathan Fell, Director of The Ice Cream Farm, comments: "Family values are at the heart of The Ice Cream Farm and I'm really proud to be working alongside GoBubble. From my first meeting with Henry, I knew this was something The Ice Cream Farm needed to be involved with and help to champion kindness and safety online."
Henry Platten, Co-Founder of GoBubble, adds: "The progressive team at The Ice Cream Farm share very similar values to our own and recognises the importance of protecting kids by giving them a safe social space. We are incredibly pleased to be partnering with them and through use of the leading GoBubble platform, we will be working together to promote social media awareness and prioritising children's online safety."
For more information on GoBubble,
please visit:www.gobubble.school
Photo: Jonathan Fell and Henry Platten