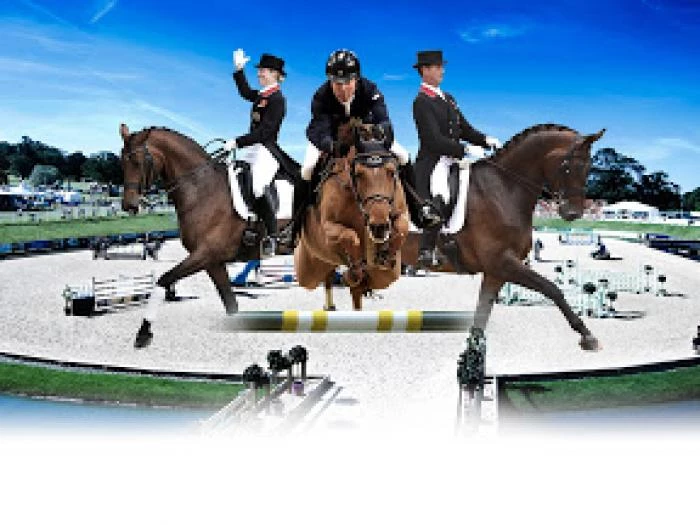 Here it comes. The Equerry Bolesworth International Horse Show is upon us, starting this Wednesday 12 June and continuing through Thursday 13 to Sunday 16 June.
Detailed information about the action can be found on the BIHS website Click here
Find below a reminder of what's in store and remember that tickets booked online come at a 20% discount compared with gate admission prices – CLICK HERE FOR TICKET ONLINE INFORMATION
WEDNESDAY 12TH JUNE
DRESSAGE GRAND PRIX – 12:20PM
The world's best dressage riders from across the globe. Charlotte Dujardin and the gorgeous Mount St John Freestyle make their seasonal debut.
DRESSAGE DEMONSTRATION – 6:30PM
Learn from the best as Carl Hester gives a Dressage Demonstration
EVENING DJ
Enjoy an 80's themed DJ where you can expect everything from Duran Duran to Bananarama and even a bit of Dexys Midnight Runners!
THURSDAY 13TH JUNE
FREESTYLE – 11:20AM
The second day of dressage action concludes with a music spectacular and world class dressage talent.
SHOW JUMPING – 4:05PM
The first glimpse of the Showjumping Action which will kick off the weekend.
EVENTING GRAND PRIX – 7:05PM
Witness leading eventers go against the clock in a combined event. Riders tackle show jumps and cross country fences in one round!
DJ-THEME: WHITE PARTY
Club Boles will come alive with an evening of live DJ's. The theme this year is White! Thursday's White Party will be the night to dress to impress!
FRIDAY 14TH JUNE
SHOW JUMPING – 3:30PM
The Show Jumping action starts right from when the show opens.
PUISSANCE – 7:00PM
The crowd favourite is returning, watch as riders and their horses clear the infamous red wall to crown the winner.
ARENA POLO – 8:10PM
A display of Polo professionals take to the Arena in an interactive demonstration.
ELITE YEARLING AUCTION – 9:00PM
Witness future equestrian stars as Bolesworth hosts the industries best bloodlines.
CELEBRITY IBIZA DJ BRANDON BLOCK
Ibiza themed night in Club Boles will be one to remember!
SATURDAY 15TH JUNE
SHOW JUMPING – 12:40PM
The Show Jumping action starts right from when the show opens.
RIDE AND DRIVE – 7:35PM
Fasten your seatbelts as riders and celebrity drivers take on a obstacle course against the clock.
LIVE MUSIC
Appearing at Bolesworth are the fantastic 'Furnace and the Fundamentals' the party band of the year who are set to supercharge Club Boles.
SUNDAY 16TH JUNE
MINI MAJOR – 1:45PM
Future show jumping stars team up with the industry greats in a battle for the podium...feature fancy dress!
THE EQUERRY HORSE FEEDS GRAND PRIX – 3:30PM
The climax of the World Class Show Jumping at Bolesworth. Who will be crowned the winner?