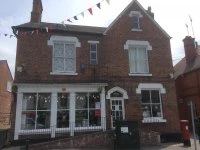 Clearly, we all think of 'Pluto House' as the natural home for our beloved 'Post Office' counter service.
We just had to share these remarkable statistics with you!!
At the time of writing this last night (22.58pm), our 'breaking news' story relating to the Post Office service returning to Pluto House had received 1002 HITS!!
In addtion to this, 172 LIKES had been registered on Facebook.
Evidence indeed, of the esteem in which we hold this service and the building which we all recognise to be the natural home of the Post Office within our village.
So, in case you missed our 'start of the week breaking news', we repeat the story below:
We are delighted to announce that the Post Office counter service will return to Pluto House in the very near future.
Lesley and I are overjoyed at the decision by the Post Office to remove the counter service from Spar and to reinstate the facility in a building which so many of us hold dear to our hearts. Pluto House on the High Street represents the nucleus of our community.
The efforts of many have persuaded the Post Office to listen and, importantly, to rethink their strategy and for that both Lesley and I are indebted to you all.
You were totally supportive and appreciative of us in trying to sustain the service in Pluto House and your patience knew no bounds as we tried to make the counter service work within the Spar store.
We thank loyal customers and members of our community for the petitions and questionnaires that you submitted on our behalf (a special 'thank you' to Ruth McPhillips); our Parish Council; Friends of Tattenhall; Tattenhall Online who covered the issues with real vigour; our MP, Antionette Sandbach, who supported the reinstatement of the service in Pluto House, and Troy Gardner and Michael Brennan from the Post Office who have helped us immensely throughout. If we have omitted anyone, for that we apologise. On a personal level, I am relieved that the endless meetings, phone calls and letters might allow my own life to return to a degree of normality.
As with any 'transformation implementation' (sorry about the jargon), there is a procedure to follow.
That procedure represents a 12 week consultation period, the details of which will be found in Pluto House and within the Spar store from Monday 23 May.
We still need our fantastic community to support the move back to Pluto House and to validate the arguments that you so eloquently placed before the Post Office during these testing few months.
Happy days ahead we hope and the need to 'use it' should we ever be in danger of 'losing it' again.

My sincere thanks to you all, Thom Morton