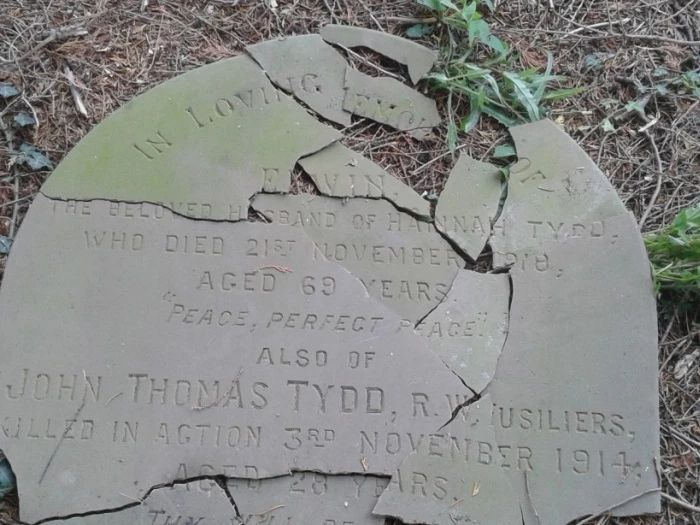 Last November, one of the Webteam researched the men of Burwardsley who had died in both The Great War and in WWII. Their stories are remarkable, one Burwardsley family alone losing 3 of their sons to The Great War.
What prompted this research were fragments of a headstone piled up in the corner of the Churchyard of St John the Divine. That headstone recorded the death of Private John Thomas Tydd of the Royal Welsh Fusiliers who had died in November 1914.

On further investigation, it was revealed that there was no accurate 'Roll of Honour' dedicated to the men of Burwardsley, nor was there a 'War Memorial' in either the Churchyard or in the village itself.
With this in mind and in the hope of raising sufficient monies to install a 'Roll of Honour' within the Church of St John the Divine, a photographic exhibition of 'Nostalgic Burwardsley' is to be held during the weekend of 12th and 13th March 2016.
Graham Wilson, the owner of the 'Successfactory' in Burwardsley, is kindly providing his venue for this fantastic fundraising event.
We will keep you posted with exact details and timings nearer to the event but pop this weekend date (12th and 13 March) in your diaries so that you are reminded to come along and take a look at some remarkable nostalgic photographs of this tiny hamlet on the beautiful Sandstone Ridge whilst at the same time helping in this fundraising initiative.
Nearly £800 has already been raised and with your help, this vision can become a reality.