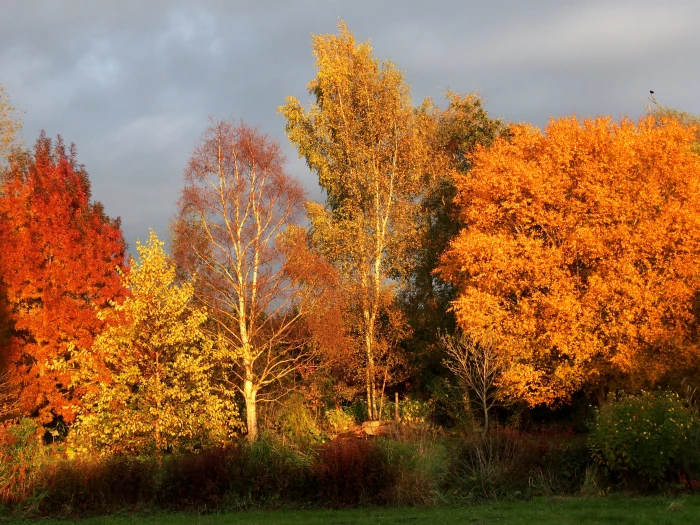 October has been the one of the wettest months in some parts of the country for over 150 years. Certainly our gardens are really soggy. However, the autumn colours have been superb as seen in the photographs on this website, and in this photograph.
The question at this time of year is whether to tidy up the garden by cutting everything back or to leave it until February when wildlife will have made the most of any seeds they can find and hibernating opportunities. Perhaps a bit of both is the best way, tidy up things that have fallen over and maybe lying on top of other plants, but leave the rest that could look good over winter, such as seedheads. But try not to be too tidy! My garden will be certainly be untidy this year as I am unable to do any major gardening currently!
Jobs to do in November:
-Protect tender plants either move them to a cool greenhouse or cover with fleece or cloches.
- Sow some herbs to grow on windowsills.
- Salad leaves can also be sown now, in greenhouses and window sills.
- Early in the month is still not too late to sow sweet peas in rootrainers or other deep pots. The result will be strong plants bearing early blooms. But maybe save some seed for next spring to sow to lengthen the season of picking.
-  After the first frosts leeks, parsnips and Brussels sprouts can start to be harvested.
- Continue raking up fallen leaves and turn them into valuable leaf mould. It is a superb soil conditioner and makes great potting compost.
- Soft fruit including rhubarb can be planted now. Choose an open, sunny spot and dig in plenty of garden compost.
- Secure glue bands around fruit trees to fend off the winter moth.
- It's not too late to plant daffodils. Late planting just means later flowering. But this is definitely the time to plant tulips.
- Dahlias need lifting after they have been frosted , and storing in a frost free place..
- Plant trees and shrubs.
- Take hardwood cuttings of shrubs, fruit bushes.

Bonfire season starts now but please always remember to do a hedgehog check before lighting.