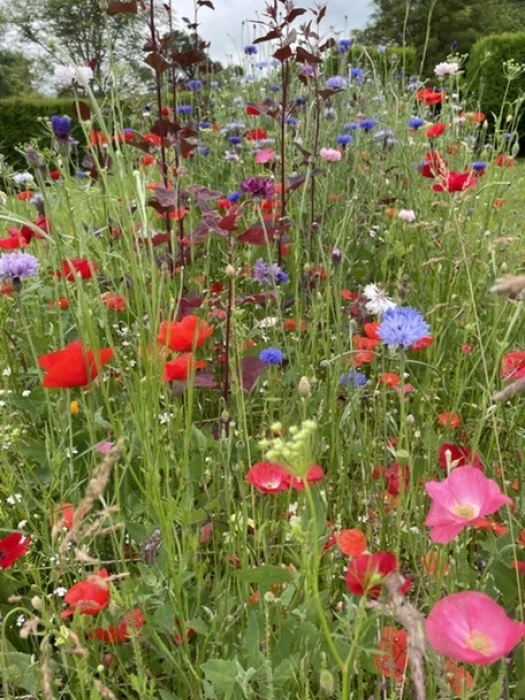 This summer has been something of a rollercoaster so far, but the garden continues to flourish. As usual somethings do better than others. If you are new to gardening then this is a big challenge. Seeds you sow don't germinate, or when they do they are eaten by slugs. You plant things too close so they are overwhelmed and possibly killed off or at least stunted by their neighbours, or somethings just outgrow their allotted space. These are all things that happen to even experienced gardeners. The weather is always unpredictable and that has a huge impact on growth, seed can just fail, and sometimes the compost isn't right. Oh and those pests – it is hard to control them without a host of nasty insecticides, which may kill off the good bugs as well as the bad.
So , the clue is to learn what you can and cannot grow in your garden depending on your soil, aspect – shade or sun, and how wet or dry it is. Our garden is on well drained sandy soil, unlike most of heavy clay Tattenhall, so we can grow different things. But the changing weather patterns that we are currently experiencing will all have an impact.But don't get disheartened, celebrate those things that have done well and use others to make compost!!
This year we had a new project, a wooden sculpted bench had rotted away, so we took this as an opportunity to try something different. Paving slabs were lifted, soil dug over lightly, and compost spread. We carefully measured out and divided up a large packet of colourful annual wildflower seed, so that the patch would have an even distribution of the seed, and sowed a mini wildflower meadow. It has been a huge success, all the visitors to the garden have been wowed by it – see photograph.
The insects have just loved it as well, and it has been exciting just to see what will come into bloom next. Wildflowers can be absolutely glorious – if you want to try a mini meadow on your lawn this would be a good way to get over the idea that it is always untidy.
Garden Jobs for July

-The veg gardening is producing now so pick crops regularly, especially courgettes, to stop them turning into marrows.
-Sow winter salads like radicchio, and small batches of quick growing salad leaves, rocket and radishes.
-Sow last batch of peas and dwarf beans for an autumn crop.
-Sow biennials like foxgloves, wallflowers, honesty to flower next year.
-Take cuttings of tender perennials like salvias, and pelargoniums.
-Feed dahlias, sweet peas and bedding plants, and roses.
-Dead head bedding plants and annuals to keep them flowering.
-Cut back early flowering plants such as hardy geraniums, they will have a second flush.
-Cut down broad beans after they have finished cropping , leave roots in the soil as they contain nitrogen for the next crop to be planted .
-Thin out apples, pears and plums, if you are lucky enough to have any this year after those late frosts.
-Weed, weed and weed!

Then sit back and enjoy the fruits of your hard labour!