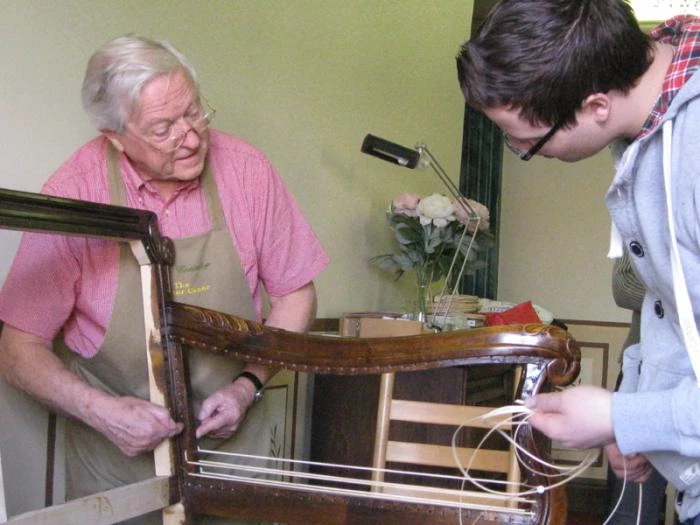 Brian Crossley from Tattenhall in Cheshire has been awarded an MBE in the Queen's New Year Honours List 2020 for services to chair caning, in recognition of his unparalleled craftsmanship and tireless work in ensuring his skills are passed on to current and future generations.
Brian was among three craftspeople nominated by the Heritage Crafts Association in this year's New Year Honours, following 16 previously successful nominations since 2013. Earlier this year, the charitable organisation – which was set up ten years ago to support and champion traditional craft skills – published the latest edition of its groundbreaking HCA Red List of Endangered Crafts, the first report of its kind to rank endangered craft skills by the likelihood they will survive into the next generation.
Brian has been involved in the endangered craft of chair caning for over 50 years – initially in his spare time, and now full time – having been taught by his mother. He has devoted himself to perfecting and passing on the skills, and is now one of the most revered practitioners in the world, regarded as an expert and ambassador in his field. He is the go-to craftsman for prestigious museums and antique collectors to repair and re-cane their furniture, including the Ruskin Museum where he re-caned John Ruskin's very own high chair.
Brian was a founder Trustee of the Heritage Crafts Association nine years ago, and its first Secretary, setting up the Association such that it had sound governance and a solid foundation for the future. He is a strong advocate for craft, being a great ambassador for both chair caning and heritage crafts in general. His unique skills as a maker, teacher and researcher have been recognised by the Worshipful Company of Basketmakers, of which he is a Yeoman.
Brian's previous career was in civil engineering, and he has provided decades of mentoring and developing others through the Institution of Civil Engineers. He rose from Chair of a regional committee to eventually Vice President of the Institution for four years, responsible for standards of civil engineering in many countries. From 2002 to 2013 he volunteered for the Historical Engineering Group, researching and preserving unique past engineering works. In 2001 he won the Garth Watson medal, the highest award for service to the Institute. He has also been awarded an honorary doctorate by the University of Bolton for his outstanding contribution to the field of construction.
The two other craftspeople receiving MBEs in the New Year Honours are reverse glass sign artist David A Smith MBE from Torquay in Devon and upholsterer Wendy Shorter-Blake MBE from Welwyn Garden City in Hertfordshire.
HCA Chair Patricia Lovett MBE said:
"While countries like Japan and Korea have National Living Treasures schemes to celebrate master craftspeople, the UK does not yet have an equivalent way of recognising our most highly skilled makers – and sadly we are one of only 15 of the 193 UNESCO member states yet to ratify the 2003 Convention on the Safeguarding of Intangible Heritage. We are therefore delighted that these talented individuals, who give so much of themselves to ensure that their crafts continue, have been recognised through the honours system, putting traditional craftspeople up there with other great luminaries of public life."