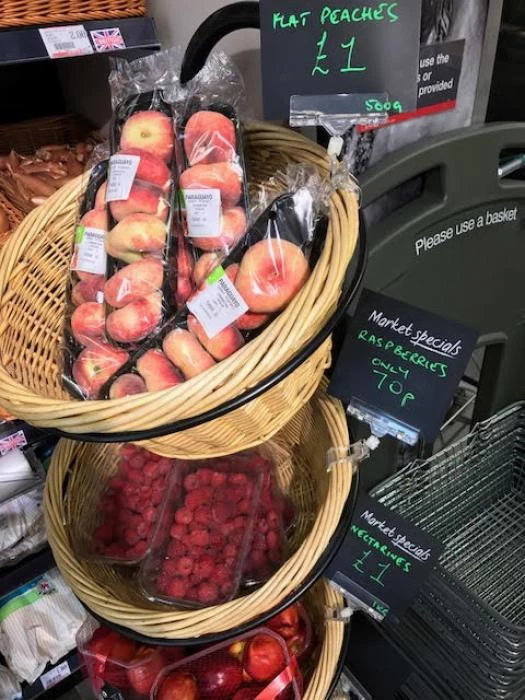 'Market Specials' is the new buzz phrase at SPAR on the High Street.
Not only are we keen to support Lesley Morton in The Pluto House Gift Shop and all the fantastic postal and banking services that she offers (that relates to all banks by the way), but cross the road and take a peep at another new initiative introduced by Thom Morton too.
Thom Morton, Director of SPAR, has changed his fruit and vegetable supplier and is now ensuring that his produce is supplied direct to us from the Liverpool Market. This means, that not only are prices significantly cheaper for everyone but everything is so fresh and of much better quality.
The challenge is that you might not know quite what will be on offer but the thrill of purchasing fantastic fresh fruit and vegetables right here in the village is a real bonus.
'Market Specials' change daily but this member of the Webteam spotted packs of 6 beautiful flat peaches for just a £1, matched by punnets of nectarines also at just £1. There were also delicious raspberries at a mere 70p. And, whilst not in the photograph, fresh blackberries were just 55p too!
So, look out for the 'Market Specials' labels and enjoy a veritable feast of seasonal, mouthwatering fruits and vegetables at a fraction of the price that you would be charged in the leading supermarkets.
'THINK LOCAL & THINK MARKET SPECIALS' – Well Done Thom!