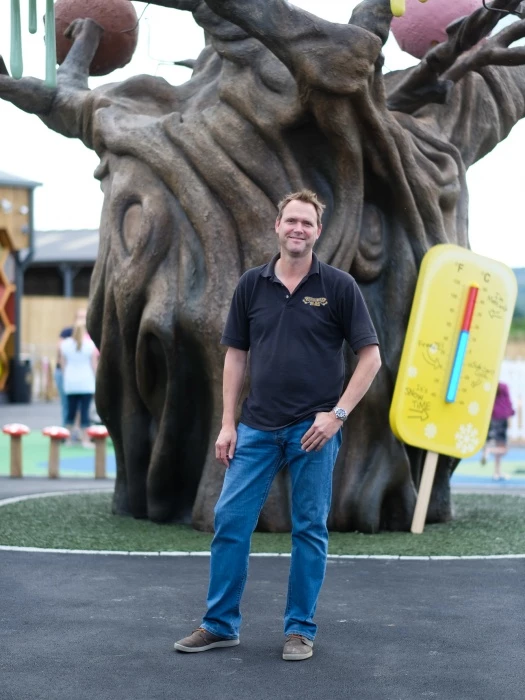 Ice Cream Farm Director receives coveted award for Outstanding Business Leader
Jonathan Fell, director of Cheshire-based Ice Cream Farm was recognised as Outstanding Business Leader at the High Sheriff of Cheshire's Awards held at Chester Racecourse on Tuesday evening .
The High Sheriff Awards welcomed some of the most respected business leaders in the county, demonstrating the exceptional high level of competition that Cheshire can boast. The award itself recognises an Outstanding Business Leader who has shown exceptional vision and leadership at the helm of a successful and growing business, which has also contributed to the development and reputation of the whole sub-region.
Running the award-winning ice cream manufacturing business, Cheshire Farm Ice Cream as well as the hugely successful Cheshire tourist attraction, The Ice Cream Farm, Jonathan's leadership skills are tested to the max on a daily basis. Add to this the recent unveiling of a £5million redevelopment, born from his own exciting vision, and it is little surprise that he has been recognised for his work.
Here Jonathan comments: "This year we are celebrating 30 years in business, which is a massive feat in itself and something we're immensely proud of. We couldn't achieve any of the things that we do without an extremely loyal and talented team to support us. Many of our staff have worked with us since school and have watched us grow into what we are today. We couldn't think of a better way to celebrate our 30th anniversary."
With growing numbers, The Ice Cream Farm tourist attraction reached capacity in 2013, when the £5million redevelopment was undertaken to meet demand. Launching in July 2015, The Ice Cream Farm now offers an amazing flavour of activity. From 'Strawberry Falls' adventure golf, 'Scoop JCB diggers' and 'Honeycomb Canyon', a sensational sand and water play area, to 'Daisy's Garden', a free play experience with a difference that includes a snow-emitting, life-size magical ice cream tree sitting at the heart of the mind-blowing site.