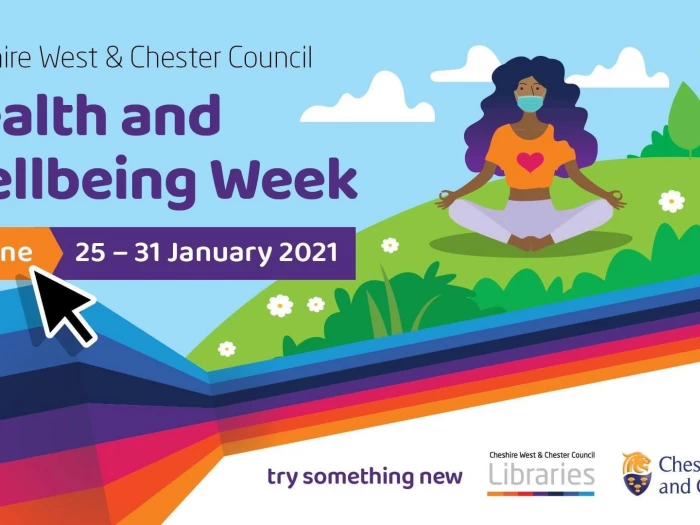 Health and Wellbeing Week Online: Monday 25 January – Sunday 31 January 2021
This year Health and Wellbeing Week is going online but we're still offering a range of free activities through our Facebook page to help improve your mental and physical wellbeing.
We are teaming up with various partners to provide something for everyone including Cheshire Dance, Cheshire Archives, Cheshire West Communities Together, Cheshire Wildlife Trust, Citizens Advice Cheshire West, Fallen Angels Dance Theatre, Healthbox CIC, Healthwatch Cheshire West, and Open Eye Gallery. We'll also be having special storytimes, a virtual coffee morning with Opal Services and Drive Safely for Longer sessions with the Road Safety Team.
Throughout January we have also partnered with Star Events Online, a world leading online events platform uniting people from across the country, from their home to yours. Highlights include:
Cook along with the Stars – join a famous chef from your kitchen to theirs
Online Drawing Class – 64 Million Artists January Challenge
Comedy with the Stars – keep healthy, keep laughing and join leading stars from the world of comedy followed by a round table to raise awareness on mental health. Line up and panelists released shortly
Kids Cook Along – Join Jasmine Iachella making extremely yummy, healthy food alongside some guidance on child nutrition for parents or caregiver
Meditation with the Stars – explore ourselves, deepen our awareness and consciousness, explore themes of the self, and develop inner peace.
Tickets to bookable events are FREE and AVAILABLE HERE.

Lookout for further events and activities as they are added throughout January. Please follow us to keep up to date.
Please note Zoom or Microsoft Teams will be required to access events and can be downloaded from the App Store or Google Play.