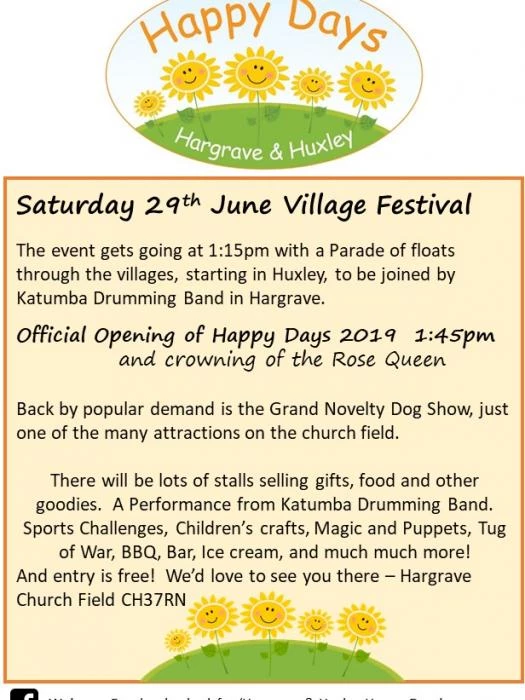 Hargrave and Huxley Happy Days Village Fete – 29th June 2019
CLICK ON IMAGE TO ENLARGE
1:15pm Procession of Rose Queen and floats from Elm Tree Farm Huxley to Hargrave Church field
1:30 Katumba Drumming Band to march in with floats
1:45 Official opening and crowning of the Rose Queen
2.00 Grand Novelty Dog Show begins
2:30 Performance from Katumba Drumming Band
3.00 Huxley C of E Primary singing
3:15 Sports Challenges
3:45 Paul Storey Magic & Puppet Show
4:30 Musical Dogs and Best in Show presentation
4:45 Tug of War

Great things are planned for the fete this year: Stalls selling fantastic products, foods, and gifts, Magic and Puppet show, BBQ, Tombola, Sports challenges, Boucy castles & inflatable basketball, a grand novelty dog show, smashing plates, coconut shy, afternoon teas. And special attraction for this year- Katumba drumming band.
The organisers have appealed for donations for the raffles and tombola, Ann Smart is the person to contact with donations: mas10642@gmail.com
There is a facebook page so please like it, or friend us too.