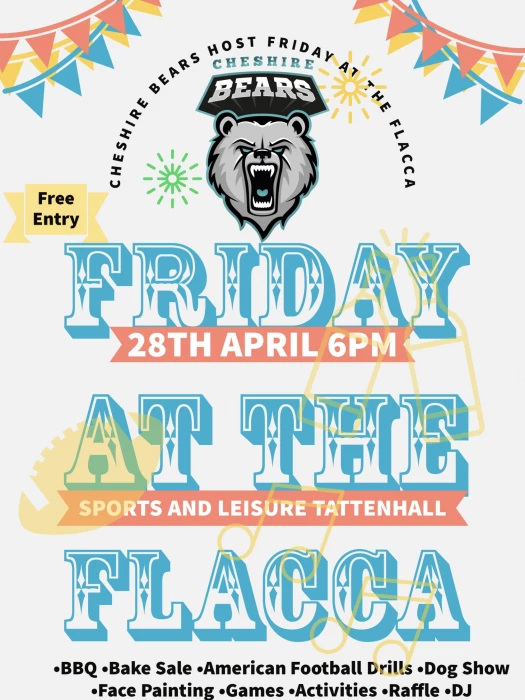 Friday @ the Flacca is Back!
Come and join us for the first Friday @ the Flacca of 2023! Friday, 28 April. 6pm.
All welcome – and for those that haven't joined us for one before: this is a monthly early-evening social event for the village at Sport & Leisure Tattenhall, on the Flacca up behind the High Street, when folks can enjoy a drink (hopefully al fresco) and catch up with friends whilst the children take part in activities laid on by the different sections of the Club. No need to eat beforehand – the barbecue will be fired up!
and to kick us off this year, it's the turn of our Women's American Football squad, The Cheshire Bears! .. and have they got some great activities lined up – just have a look at the poster!
Hot off the press: there are three categories for the Dog Show:
Waggiest Tail
Most like a Bear/the Cheshire Bears' greatest fan
Most impressive trick.
Just a note: all dogs, however well-behaved (and we hope they all will be), must be kept on a lead at all times, please. So get that pooch into training!
Bring trainers for the American Football drills, cross fingers for a lovely sunny evening, and we look forward to seeing you on the Flacca!
Dates for this year's Fridays @ the Flacca :
19 May, 9 June, 30 June, 28 July, 25 August and 15 September
And not to be missed – the highlight of the summer
Family Fun Day @ the Flacca! Sunday, 16 July
Put them in your diary NOW! More details to follow.
Your Award-Winning Club Mirror Family Club of the Year 2022!
WeLoveTattenhall