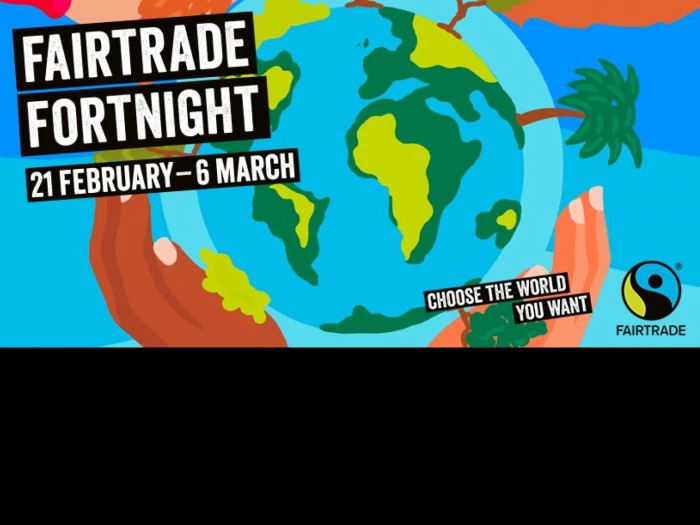 Fairtrade Fortnight 2022
From Monday 21st February to Sunday 6th March 2022.
For two weeks each year thousands of groups, companies and individuals get together to share the stories of the people who provide all the things we rely on for daily living. This includes people who:
grow our food and what's needed for drinks;
mine, process and refine the minerals we need;
grow the cotton and other materials needed for clothing etc.

Too often these very people are underpaid and frequently exploited. We have become increasingly aware over recent years – especially during the global Covid pandemic – that we live in an inter-dependent world, and rely on each other. Yet it is so easy to still go shopping, pick up something to buy without even giving a thought to where it came from and who was involved in it getting to our shops.
For Fairtrade Fortnight 2022 the online Choose the World You Want festival will return from Monday 21st February to Sunday 6th March. Everyone is really a part of the Fairtrade movement and each of us has the power to bring about change by choosing Fairtrade goods when shopping, as well as encouraging others to do so too.
Last year the G7 and COP26 events happened. These raised important messages, and offered much hope and promise; but there is still much urgent work and action needed to reverse climate change and improve conditions in the world for all people.
That's why Fairtrade Fortnight importantly highlights the problems people face around the world, who work to provide much of our food, clothing and other living essentials.
So make an effort during this fortnight to Choose the World You Want, by buying Fairtrade goods. Most supermarkets and many stores will be promoting Fairtrade goods during Fairtrade Fortnight so it shouldn't be difficult to find the right goods.
And who knows – maybe do it for more than just a fortnight – and make a real difference!
For more information check out the Fairtrade foundation website.
'WeLoveTattenhall'