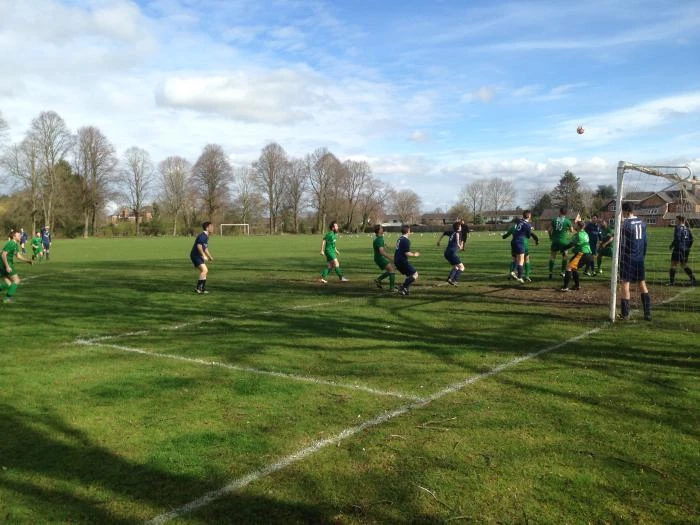 AFC Tattenhall got up and running yesterday, with their first league win in over a year, against Upton YC, and boy did they deserve it!
Having been undone in midweek by a contentious last minute penalty decision against Waverton, the boys in green knew what they had to do today. Don't let the name fool you, Upton Youth Centre have some wise old heads amongst there ranks, but it was Tattenhall who sprang out the blocks, full of the vim and vigour of a lion cub learning to hunt its prey. Upton – the gazelle – were keeping Tattenhall -the lion cubs at bay, until the ever majestic Mutete danced through the defence and teed up Farquhar, who had his first shot parried, then nodded the ball into the net. Cue pandemonium within Tattenhall's record attendance of 13. (Including dogs)
One soon became two, as a through ball played by one of the creative powerhouses in midfield, sent Mutete sprinting through on goal, only to be unceremoniously dumped on his derrière by the onrushing keeper. "Penalty!" screamed the baying crowd, "penalty" said the referee. Up stepped up Lord Farquhar, his mental and physical fortitude belying his diminutive stature. Run, kick, goal! Football can be a simple game when you know how. Run, kick, goal!
The half time whistle blew.
The second half began more tentatively, with Tattenhall seeking a third goal to kill the game off, while keeping by it tight at the back. Chances came, Amson, Pinson, Mutete and Perrin had great chances to score, and the imperious Rees and Dutton both having goal-bound efforts blocked.
Millington, and Rose were introduced to calm things down, but the game was eventually won by an old head. It was a thing of pure, unadulterated wonder. A ball clipped in over the opposition defence, Ross Farquhar plucked it from the air like a seeker catching a snitch, and produced a sumptuous volley into the top corner. Keats once said "A thing of beauty is a joy forever" and this goal will certainly fill our hearts with joy for a long time.
The last 10 minutes were nervy, with Tattenhall defending for their lives, but the presence of Pete Harper clearing everything, man and ball that came his way drew comparisons with Frank LeBoeuf in his pomp. The concession of a needless penalty aside, it was as much of a match-winning performance as hat-trick hero Farquhar.
Talking of the penalty, it was saved, in expert fashion by the luminous Buckingham in goal, unbeatable. (apart from a silly little consolation goal, but we don't particularly need to mention it.)
The game finished 3-1 to Tattenhall, and it is a victory that will stand them in good stead for the coming season.