Tue 21st Jan 2020

Cloudy 6°C
The beautiful village of Tattenhall in Cheshire
Yvonne Keeping:
April 2019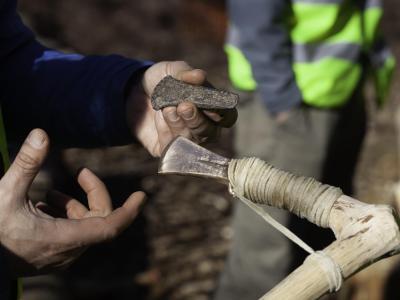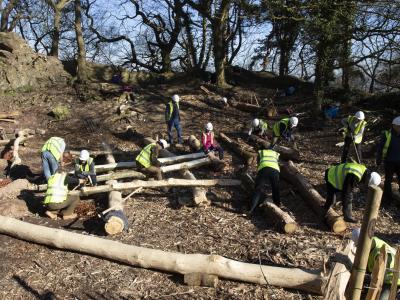 Last December, an early Bronze Age Axe Head was found in a Bolesworth field in Tattenhall. The Bolesworth Estate has kindly agreed that this find can go on display in our village showcase which is housed in the Barbour Institute. The Axe Head has already been seen by various experts to determine whether it might be linked to the Bronze Age metal works at Beeston Castle.
This find is very timely, as English Heritage volunteers have just begun a project to reconstruct a Bronze Age Roundhouse at Beeston Castle, based on previous archaeological finds from the site and which include evidence of metal-working. The find is also of particular interest since volunteers are making use of authentic replica axes in their project, and they were delighted to be able to handle an original Bronze Age Axe Head, thought to be over 4000 years old.
Regrettably, there is no way of proving that the Axe Head was actually made at Beeston, but it is most likely the Copper in the Bronze came from Alderley Edge or a mine in North Wales and the Tin would have come from Cornwall. However, it is thought that it could link to some early Bronze Age burials discovered under the crag at Beeston Castle.
When the Axe Head was discovered, it was only five inches beneath the ground, and it represents the oldest object on view in the village showcase so far. If anyone in the village has an object that has been found in Tattenhall Parish that they think might be of interest and they would be happy for it to go on show, please email ykeeping@btinternet.com. Do come and see the Axe Head which is now on show in our 'Cabinet of Curiosities' which is located on the staircase of the Barbour Institute; it is amazing to think people have been living in the area for this length of time.
To view our previous article about the new 'Cabinet of Curiosities' CLICK HERE.
popular recent storiesAlso in the news